Selling Power Magazine Article
Make a Connection
William F. Kendy
First and foremost, you have to build rapport and let the customer know you're really interested in helping his or her company succeed. The best way to do that is by asking thoughtful questions, says
Baton Rouge Business Report
account executive Kelly Dumigan. "If you've done a good job prospecting and qualifying, you're going to have a pretty good idea about how the prospect is going to answer."
Ken English, corporate sales manager for Tulsa, Oklahoma-based Superior Linen Service Inc., agrees that powerful questions are the cornerstone to increased customer involvement. "Asking questions is probably the most important means of involving the customer," says English. "The more you get the prospect to think about what you're offering and how it can help, the more you become a team."
Dumigan feels that asking questions is also part of a larger educational process. "In my case, because I represent a magazine, the next step is to basically educate the customer on our demographics and the different ways we can help. It's not just selling our publication, it's educating and bringing the customer to actively participate in the decision-making process."
While some customers feel uncomfortable when a salesperson invades personal space, Dumigan says she's never been turned down when she asks to sit next to a customer to go through the magazine together. "Normally, I'm sitting across the desk from the prospect, and I'll ask if I may step from behind the desk so we can go through the publication together," she says. "I know if I just hand over a copy, the customer will flip through it and not hear a word I say.
"By sitting next to the customer, I'm breaking down a wall," Dumigan explains. "While we're going through the book, I ask, 'Which ads catch your eye? What do you see that you like? What size ad do you think you need to create the type of presence you want? What type of message do you want to send?' By doing this, I'm getting the customer actively involved in the process."
Dumigan adds, "The key is to get the prospect to really listen while you keep control of the appointment. The minute you lose control, you must be quiet until you find a way to get that control back. If a prospect takes the magazine before we have a chance to go through it together, I'll say something like, 'You may be interested in a certain section,' then get it back and go through it with the customer. Now I've got the ball back in my court."
English feels strongly about the benefits of identifying needs and educating the customer on exactly how Superior Linen Service can help solve specific problems. He has taken the process a step further by initiating a facility survey.
"In some cases, instead of making a regular sales pitch, we ask a customer if we can do a survey in which we visit the facility, get feedback from the staff, and find out what is needed, what the problems are, and so on," says English. "We even have gone as far as conducting focus groups and a demographic survey of the customer's customers. We run the numbers, do an overlay, and then present the results.
"We basically tell the customer what we saw and how the application of our product can solve the company's problem. We ask if there is anything we missed and if there is any benefit listed that is not needed. We find that very seldom does anyone answer no. Who can say no to
(continued on page 2)
Free Webinar
New Ways to Boost Sales Productivity in 2017


Thursday, January 5
1:00 pm ET


REGISTER NOW >
Daily Cartoon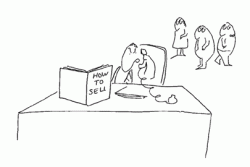 Wait, you moron! Don't place a $50,000 order yet - I haven't come to the close.