Selling Power Magazine Article
What's Ahead for Sales Organizations in 2013?
Gerhard Gschwandtner
This also applies to sales leaders. While the speed of change accelerates, many sales leaders become confused by the rapid shifts in buying behaviors. While some customers act as if they're in a boom cycle, other customers react and prepare for tougher times in the road ahead.
As we plan for 2013, salespeople demand more clarity of vision from their sales leaders. An overarching vision has three elements:
1. A guiding vision.
It begins with an accurate appraisal of the present. Salespeople want to know the answer to these questions: Where are we now? What are our strengths? What makes us vulnerable? What threats are we facing?
2. A guiding fiction.
Nobody can predict the future, but effective leaders have an uncanny ability to direct followers to imagine and find the best opportunities in the market. Uncertain times demand leaders who can stimulate the imagination so their followers can focus clearly on winning more business month after month. The best leaders are merchants of hope.
3. A guiding process.
Salespeople need a continuously improved and accelerated process for everything from generating leads to closing the sale. Successful sales leaders need to constantly realign people, process, and technology.
In many companies, there are as many sales processes as there are salespeople. World-class sales organizations follow a process that's based on A) the know-how of their best salespeople and B) how customers want to buy. Many sales leaders believe that their well-thought-out sales process reflects the customer's journey. So in this issue, we've included a special insert that contains the Sales Force Effectiveness Navigator™, created by ZS Associates. Here, you'll find a complete blueprint for optimizing sales performance at all levels.
While the economy continues to challenge, confuse, and surprise decision makers, effective sales leaders ignore the noise on the sidelines and get busy improving sales productivity across the organization. According to a survey performed by the SalesOpShop, sales leaders' top two priorities for 2013 are 1) increasing topline growth and 2) improving the sales process. To achieve these goals, sales leaders need to become more innovative when aligning people, process, and technology.
The challenge in most organizations is that people are often too slow, processes are often too old, and technology is often too complex. To meet that challenge, we need to invest 60 percent of our effort in helping people change, 30 percent in improving our processes, and 10 percent in implementing simpler and better technology. The key to winning in 2013 depends on expanding the innovative capabilities of the organization.
Albert Einstein once said that imagination is more important than knowledge, because knowledge tells us what was, whereas imagination tells us what will be. What will be in 2013 depends on adaptive and creative sales leaders, who drive people's capacity to change and lead them to execute on a customer-focused process that's accelerated by the best technology available. Success is the result of what you believe you can achieve.
Free Webinar
How to Excel at Being a Sales Leader


Tuesday, November 15
2:00 pm ET


REGISTER NOW >
Upcoming Event
Sales 2.0 Conference


Monday, November 14


More Info
Daily Cartoon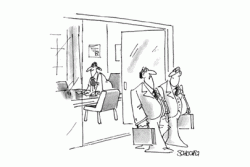 I still can't get used to selling to someone with an earring and a ponytail.