Selling Power Magazine Article
Effective Sales Coaching for Remote Sales Teams
Heather Baldwin
This isn't a passing fad; it's the new reality of working life, driven largely by advances in technology that let us communicate any time, anywhere, 24/7. "Virtual teams are here to stay," says Yael Zofi, founder and CEO of AIM Strategies and author of
A Manager's Guide to Virtual Teams
(AMACOM, 2011). To prepare for writing her book, Zofi completed an in-depth survey of 150 managers, and at least 70 percent of those she surveyed reported seeing a rise in virtual teams. This evolution, she says, "has shifted in a fundamental way how managers coach and develop their people."
Coaching remotely is not a matter of simply picking up the phone to have the same conversation you'd have in the office. Things get a little more complicated when you're trying to elicit goals and concerns and serious introspection from someone you haven't seen in several months and who might be 2,000 miles away – or even halfway around the globe. Here are three keys to consider when creating an effective coaching program for your remote salespeople.
Communicate, Communicate, Communicate
In an office, managers and reps have myriad little interactions all day that serve to build trust, confidence, and boosts in performance. In a virtual environment, those interactions don't occur naturally; they must be intentionally created – a tall order for busy managers, but a crucial one. "Sales teams need more interaction, and the main role of managers as coaches is to create and enable that bond, even though they are not there in person, so that out of sight does not become out of mind," says Zofi.
To coach effectively, managers must be in constant communication with their teams. Establish routines as you would in an office, such as checking in every Friday afternoon or every Monday morning or at the end of each day. One sales VP in Zofi's study said his goal was to be totally accessible and replicate "being there" in a virtual way. As part of that effort, each day he held end-of-day conference calls to connect to sales reps and find out what worked, what didn't, what their plans were for the next day, and so on. There's no right calling schedule; the key is simply to establish a schedule that works for you and your reps.
Build a Coaching Village
Let's face it: you can't do everything, and that includes providing all the coaching your sales team needs when you are geographically dispersed. To supplement your own development efforts, Zofi recommends a system of coaching buddies.
"In a virtual environment, a buddy system – whether it's a surrogate coach who can be there in person or over the phone or a top-performing rep who can mentor and develop a newer rep – can be very effective," says Zofi. "It could be a virtual team member or a local person or even someone from a different department."
Zofi once worked with a retail organization with sales teams in the United States, Europe, and Asia. The United States-based manager struggled to coach an Asia-based rep who rarely spoke during calls, did not respond to questions, and was unclear in her answers when she did. The manager assigned the rep an on-site coaching buddy in Japan, who was able to meet with the rep in person, review calls, talk about challenges, discuss goals, and offer support – all in the rep's native language. It worked. After a few months, the rep began initiating more conversations with her American manager. She offered more frequent updates to other team members and her manager, and her sales results improved.
Become an "Agent of Connection"
Not too many years ago, the sales manager was an agent of change, solely responsible for getting his or her team to rise to the challenge of meeting quarterly sales targets. The manager was a problem solver. In short, the manager
managed
. Today, virtual leaders "can no longer successfully manage through command-and-control techniques," Zofi says. Instead, "a different kind of leadership is emerging, which focuses on connection and collaboration and encourages people to rise above their differences and connect at a human level."
In doing so, coaching is woven into every interaction, as managers are constantly asking questions, listening, reflecting, giving balanced feedback, and drawing out lessons learned. The
(continued on page 2)
Free Webinar
Shorten the Sales Cycle: How to Generate More Sales in Less Time


Wednesday, November 1
2:00 pm ET


REGISTER NOW >
Upcoming Event
Sales 3.0 Conference


Monday, December 4


More Info
Daily Cartoon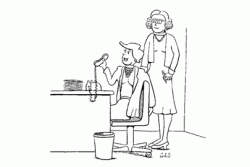 If answering machines would place orders,
I'd be having a great month!