Selling Power Magazine Article
Words to Sell By
LB Gschwandtner
"I don't write literature," says Locke. "My books are meant to entertain for three or four hours, and if they do that, it's all I'm aiming for. People have responded to that, and they enjoy my books. That's great." So how did he sell 50,000 e-books a week and land at the coveted number one spot on Amazon's top 100 Kindle book list? Locke kick-started his success the old-fashioned way: in sales. In this article, based on an exclusive Selling Power interview, John Locke, salesman, manager, entrepreneur, and now author of nine best-selling books, explains how he designed a formula for success and has repeated it for the past 40 years.
The First Key
First of all, Locke gives credit to his 88-year-old mother, who, according to Locke, is still independent and full of zest for life. It was his mother who told him that if you can read, you can do anything – his first success lesson.
At the end of World War II, Locke's Canadian father and his American wife moved to Puerto Rico, where John, who has an older brother, was born. Tragically, when John was only two years old, his father was killed in a car accident, and his mother subsequently moved the family to Massachusetts, where she had relatives. Not wanting to depend on her parents for support, she eventually found a teaching job in Louisiana and moved her two sons south. That must have been young John's second lesson in success: don't depend on others to take care of you. Make your own way in life. That second success lesson became the touchstone of his success.
"I never had a job that paid a salary," says Locke, who insisted on straight commission even when, later in life, salary plus commission was an option. Locke, who left Northwestern State University in Natchitoches (pronounced "Nack-o-tish"), LA, in his last semester, says, "Back then, no one would hire me. I was twenty-one with long hair and a rock band, and even when I offered to work on straight commission, I couldn't get a job. I was even turned down to sell Kirby vacuum cleaners."
Opportunity Knocks
That is until one day an opportunity opened up. If he was willing to pay for a company-run, two-and-a-half-day training program, a job selling insurance door-to-door could be his. Locke took the plunge, sold his musical instruments to pay for the training, and signed up. Going door-to-door selling policies that cost as little as $2, $4, and $6 per month seemed like a start that would never amount to $1 million dollars. Or would it?
"If you can sell, you'll never have to worry about surviving," Locke says. "It's the only profession that generates income for a business. And if you sell on straight commission, you'll never be let go."
He doesn't agree with the notion that to do well you have to love what you're selling. "As long as it's legal and there's a need, I can sell anything. If you can sell, you can control your own destiny," he says, adding that it was the same with his books. "I went out like a bull and found the market."
Although that may sound like a bit of bombast, Locke, who comes across as a total professional – polite, direct, experienced, and smart – has certainly found his niche. And that's another of Locke's principles: find your niche market. That's where need meets product. His niche in books falls somewhere in the crime/mystery/thriller/pulp-fiction arena – or maybe a combination of all four. An indie author who self-published his books on Amazon's Kindle and Barnes &
(continued on page 2)
Webinar
The New Rules of Selling


Wednesday, October 15
1 pm ET / 10 am PT


Register Now
Daily Cartoon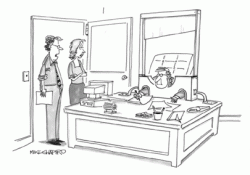 It's kind of barbaric, but it's done wonders for his productivity level.