Selling Power Magazine Article
Three Rights Make Things Righter
Heather Baldwin
These questions aren't merely hypothetical for Air Products's electronics segment, a $1.5 billion division that supplies specialty materials, bulk gases, and gas and chemical delivery equipment and services to the global electronics market. Over the last two years, roughly 25 percent of its customer base has evaporated, either victims of a challenging business climate or absorbed via mergers and acquisitions. The division responded with cutbacks of its own after sales and profitability numbers fell to pre-2007 levels.
Today, the electronics industry is rebounding at an unprecedented rate. At the same time, the rate of change in the performance characteristics of raw materials has never been greater. In a connected world, sales professionals respond to scores of inquiries every day concerning product applications and material performance, and as customers' demands for quality, reliability, size, and speed increase, suppliers must keep up with those ever-changing needs.
"Change management is our greatest challenge," says Bruce Hargus, VP and GM of sales and operations for the electronics division at Air Products. "As the industry climbs out of recession at a very high rate of change, our staff is required to do more work with fewer people."
This do-more-with-less theme is a recurring one in businesses around the world. So how is Hargus handling the challenge? He says his division is thriving thanks to three things:
The right people.
Success in a global sales environment is all about the people, says Hargus. "If you hire the right people and give them the right tools and grant them a level of power commensurate with their abilities, they will succeed," he asserts. Still, the first part of his equation is most important – the right people. In addition to hiring for excellence and competency, the Air Products electronics division seeks salespeople who represent the company's diverse global customer base. Today, 50 percent of its business and much of its growth is in Asia. Of the remaining 50 percent, three quarters are in the United States, and 25 percent is in Europe. "Having a diverse, educated, and well-trained sales force is the difference between success and failure today," says Hargus.
The right training.
Air Products offers a career-development program, giving its young professionals assignments over a three-year period in multiple divisions around the world, so they can more effectively contribute to the organization in their permanent roles. In addition, new employees are assigned a mentor outside their chain of command to help boost their opportunities for success. This mentoring arrangement, says Hargus, creates a group of employees who are better networked internally.
"We train people, we empower them, and we give them the resources they need to manage their own opportunities, and people really respond to that," says Hargus, noting that every salesperson has a clear development path and is rewarded early and often if he or she shows potential. "Our pay is competitive, but empowerment and the ability to grow and advance motivate people."
The right tools.
The electronics division sales force is one-third smaller than it was a few years ago but operating at the same level. How? With the right tools.
"The team members are mobile, fully functional, and have access to the full capability of the SAP enterprise system wherever they are," says Hargus. By having reliable mobile tools along with training on how to use those tools, salespeople can get the right content to customers when they need it. Hargus adds, "The people who are excited about these capabilities are the people we want on our sales team."
At a Glance
Air Products is a $9 billion company that serves customers in industrial, energy, technology, and healthcare markets worldwide with a portfolio of atmospheric gases, process and specialty gases, performance materials and equipment, and services. Headquartered in Allentown, PA, the company operates in 40 countries and employs more than 18,000 people in its four major business segments: electronics and performance materials, merchant gases, tonnage gases, and equipment and energy.
Bruce Hargus is VP and GM of sales and operations for the $1.5 billion electronics division. The division employs about 100 people in
(continued on page 2)
Webinar
Secrets to Success with Mobile Sales Enablement


Wednesday, November 5
1 ET / 10 am PT


Register Now
Upcoming Event
Sales 2.0 Conference


Monday, March 16


More Info
Daily Cartoon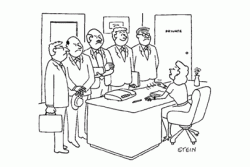 Mr. Whitney says he's out, out, out, in and out.