Selling Power Magazine Article
The New Normal
Lisa Gschwandtner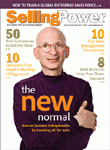 Subscribe Now
Sales professionals today operate in a fast-moving, hyperconnected, information-loaded environment. It's no secret that the Internet has fundamentally transformed the relationship between prospect and sales rep. A company Website outfitted with media presentations, free trials, and resource libraries can eliminate the need for personal interaction between a potential buyer and anyone from the sales department - at least for information-seeking purposes.
In the wake of such automation, some of the most knowledgeable and talented sales professionals have been left wondering where they stand. During the last 15 years, author, entrepreneur, and marketer Seth Godin has made it his business to anticipate these watershed moments. Regularly addressing audiences at such companies as Google, eBay, Microsoft, and Disney, he has also spoken twice at the prestigious TED conferences, and his ideas about change have been a dominating influence among marketers and in the business world at large. Today Godin runs what is arguably the most popular marketing blog in the world, and he remains a pioneer in publishing. To date, he has leveraged the power of the Internet to turn all 12 of his books into
New York Times
and Amazon best sellers.
When we last interviewed Seth Godin in 2006, he was already talking about concepts that today seem obvious. Consider what he said in our November/December cover story that year: "Consumers today have more choices than ever, and more options mean more power. You don't need a salesperson to buy a car, because you can go online. If one item disappears, you pick another. If you don't want to watch commercials, you don't have to. In the old days, if I got one or two cold calls, I might take them. Now I get ten cold calls and twenty pieces of junk mail. So I ignore all of it."
In with the New
According to Godin, our current economic state and depressed job market aren't conditions that will eventually correct. They're permanent, and the implications are all-encompassing. As he tells it, the old formula for success went something like this: Keep your head down. Follow instructions. Show up on time. Work hard. Suck it up. If you stuck to these rules, the rewards included a steady paycheck, health insurance, job security, and a pension.
Godin says the new rules to succeed look much different: Be remarkable. Be generous. Create art. Make judgment calls. Connect people and ideas.
Godin has always been a fan of sharing a remarkable idea as a way to stand out in a glutted marketplace. In his newest book,
Linchpin: Are You Indispensable?
(Portfolio Hardcover, 2010), he says that the makers of those remarkable ideas will become most valuable. The new economy will reward those who can create unique experiences for their companies and customers. This will require a work force willing to take risks, trade on new ideas and innovations, and not follow the rules.
Creating Powerful Sales Teams
The good news is that great salespeople already possess the kind of creativity it takes to make connections with prospects. That's the art of the sale. The challenge today has less to do with the art of selling and more with the environment in which selling is happening. That requires a whole new set of rules for sales management. A true leader, says Godin, is less interested in getting the sales team to "do exactly what it did yesterday, but a little faster and a little cheaper." Instead of trying to use technology to simply increase the number of calls your sales reps can make in a day, sales leaders need to think of ways they can use technology to make their sales teams more powerful.
"What that would entail is saying, 'How am I going to get my sales force better connected to one another and better connected to the people it's selling to?'" says Godin. "That will increase the sales force's power. That, I think, is the key distinction between working for an organization that embraces professional salespeople versus working for an organization that churns people through and treats them like a factory."
Navigating Change
The old command-and-control style of management has shifted to a much more open and collaborative work environment. Some sales professionals have adapted to this quicker than others. Although top performers tend to have the competitive drive and risk-taking nature required to succeed, they're not always flexible when it comes to change. In Godin's experience, in fact, the most successful sales reps are likely to dig in their heels at the prospect of changing the way they do business.
"They say, 'I like it this way because I'm good at it,'" he explains. "They don't want to reinvent the game, even though it might mean dramatic increases for themselves and the company."
Consider, for example, the
(continued on page 2)
Webinar
5 Pillars of Mobile Sales Enablement


Tuesday, September 9
1 pm ET / 10 am PT


Register Now
Upcoming Event
Sales 2.0 Conference


September 18, 2014


More Info
Daily Cartoon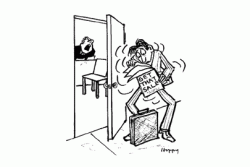 WELL?