Selling Power Magazine Article
Slam-Dunk Sales!
Kim Wright Wiley
For a man who's so successful, Brett Yormark spends a lot of time in the dark – literally.

Yormark, who at 41 years old is the youngest CEO in the NBA, wakes up at 3:30 in the morning and is in the office by 4:30 a.m., where he works out and then sends motivational emails to his New Jersey Nets staff. Seeing who can get up the earliest is part of a friendly competition he shares with his twin brother, Michael, the president of the Florida Panthers hockey team. (Yormark sleeps in on weekends – arriving at the office at about 7:00 a.m.)

His rock-hard work ethic is paying off. When Yormark joined the Nets four years ago, it was an underperforming franchise, but through a relentless flurry of creative marketing ideas, including initiatives offered by no other team in the NBA, the tide has turned. The Nets are one of only a handful of teams that have sold 2,000 new, full-season sponsorships three years in a row, and sponsorships have increased by more than 200 percent, even after the controversial decision to move the franchise to Brooklyn.

Not surprisingly, Yormark sees a lot of similarities between business and basketball. "The DNA is the same for a good player and a good employee," he says. "You look for people who are committed and passionate, willing to persevere and put the needs of the team ahead of themselves. Because, whether you're on a basketball court or in an office, a good working environment is built on trust."

So how do you get your team in the playoffs? Here are three things you can learn from Yormark's turnaround of the Nets.

Put a Face on the Product

Yormark came to basketball from NASCAR, a sport known for providing its fans plenty of celebrity access and putting an easily identifiable face on its athletes. Yormark was the one who secured the $750 million naming-rights deal with Nextel for NASCAR, which was the largest sports deal in history.

"I had a good run at NASCAR and naturally took some things from that playbook," says Yormark. "Specifically, I wanted the Nets to be the most accessible team in sports, with athletes who know how to communicate our brand. We sit our players down every year and have a business meeting to make sure that they understand they're a big part of creating value for our ticket holders and sponsors."

Yormark, in fact, is a master at using the celebrity power of his players to pull in sponsors and ticket holders. He debuted the Nets Ticket Influencer Program, in which the team hosts cocktail parties for prospective season-ticket buyers at the homes of season-ticket holders. Staff and players, including such stars as Vince Carter, mingle with the prospects and talk up Nets basketball. The team provides the star power – along with food and drink – and the host provides the prospects. It's a trendsetting tactic in reaching consumers and probably one of the reasons Yormark has been called "the man who NASCAR-ized the Nets." The Nets have held more than 100 Influencer events, and they average $75,000 in ticket sales.

Another successful initiative has been the Home Away from Home Program, in which the Nets invite prospective season-ticket buyers to have dinner and watch a road game on the 65-inch TV in coach Lawrence Frank's screening room. Either Darryl Dawkins or Albert King, both retired pro-basketball players, attend the viewing party and break down the game for the guests.

Since the only thing better than season-ticket (continued on page 2)
Upcoming Event
Sales 3.0 Conference


Monday, December 4


More Info
Daily Cartoon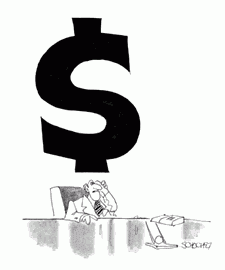 What's my sign?