Selling Power Magazine Article
How CARL SEWELL Redefines 'The Best' in Sales
Today, among Dallas' Cadillac dealerships, Sewell Village Cadillac holds a solid first in sales and profits. The dealership's service business ranks among the largest in the country.
The success of his Cadillac dealership has allowed Sewell to expand his automotive empire to include five dealerships with 10 franchises, including Chevrolet, Lexus, Oldsmobile and Buick. The dealerships combined sell 10,000 new and used cars annually. Revenues have grown from $10 million in 1968 to an impressive $250 million in 1990. In addition, Sewell's flagship store, Sewell Village Cadillac in Dallas, has ranked among the top 10 in General Motors' Customer Satisfaction Index five years running. His Cadillac-Chevrolet dealership in New Orleans made the top 10 in customer satisfaction in 1987 and 1988.
Automakers court Sewell to represent their brands. Officials of Ford Motor Co., Procter & Gamble Co., Wal-Mart and others have toured the dealership to figure out how he manages to make consistent profits while satisfying customer demands for added service and extra attention.
The Sewell philosophy is simple: treat the customer as you would like to be treated. His list of ten commandments of customer service includes such rudimentary ideas as asking customers what they want, then delivering more, and not charging for a service that you'd do for a friend for free. Is this what corporate America should mean by value added? Very possibly.
Now Sewell, with Paul Brown, marketing editor for Inc. magazine, has written a book that reveals the secrets to his success. Since October, 1990 more than 100,000 copies of Customers for Life: How to Turn that One-Time Buyer into a Lifetime Customer (Doubleday, 1990, hardcover, $19.95) have been sold.
Written in Sewell's folksy Texas style, the book is a quick how-to on top-notch customer service. And it's a subject he knows well. Sewell figures in a lifetime a satisfied, loyal customer will spend $332,000 at his dealership. Keeping a satisfied customer, he says, is more cost-effective than trying to replace an unhappy customer with a new one. It may be a standard selling notion but it bears repeating.
Sewell gives the example of a customer who returns from out-of-town business to find his keys locked in the car. The customer calls the dealership, and the dealership sends out a truck. The dealership waives the typical $25 fee. That $25 likely will keep that customer at his dealership for life, Sewell figures. Indebtedness in little ways cements the buyer-seller relationship.
Conversely, Sewell points out, he would have to gain 28 new customers through a $700 radio advertisement to equal the cost-effectiveness of retaining the loyal customer. One ad is unlikely to draw in that many new customers.
The 47-year-old Sewell credits his parents and John Sewell, his cousin and long-time partner who died in May 1990, with teaching him the importance of customer satisfaction.
Carl Sr. started in the automobile business in 1911 while working in his father's hardware store in Arlington, Texas. Although old Pop Sewell didn't drive, he did sell Model T Fords that came in kits. His son, Carl Sr., then 14, gave local farmers a driving lesson with their purchase of one Model T kit.
After World War II, cars were in big demand but short supply. Price gouging was commonplace. But not with Carl Sr. He charged list price. As a result, the Sewell dealerships now have second- and even third-generation customers. A Sewell dealership is a family affair all around.
Carl Sr. bought the Cadillac dealership in 1957 for his son and namesake, who was then 14. In 1972 when Carl Sr. died the younger Carl took over the dealership with his cousin, John.
Like Carl Sr., John Sewell catered to the customer. "He always said, `We don't criticize people for giving away too much. We criticize for giving away too little,' " recalls Boyne McHargue, director of customer services.
That philosophy continues today at the Sewell dealerships where Sewell not only gives away services, he gives away expensive Steuben bowls to customers buying their 25th car from the dealership. He replaced a tennis racquet that a customer claimed was left in the car when he brought it in for service. He has flowers delivered to customers when the dealership has erred.
The indication that Sewell Village Cadillac is different from other dealerships becomes obvious as soon as one steps into the showroom.
A table with a lush bouquet of fresh flowers sits on an elegant table at the mahogany-paneled showroom's entrance. Three brass chandeliers hang above the cars
(continued on page 2)
Upcoming Event
Peak Performance Mindset Workshop for Sales Leaders


Tuesday, December 5


More Info
Daily Cartoon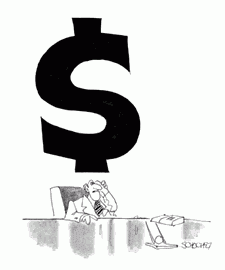 What's my sign?