Online Content
Build Rapport with Your Sales Team
Lori Pendleton
Sales teams work best when they work together. But they work together only when they have the kind of rapport that motivates them to support the department's mission – and each other.

But what can you do to develop this kind of rapport in your sales force? One theme comes up in nearly every list of sales tips, so it's something you need to encourage: open communication.

Some salespeople are so preoccupied with meeting their numbers that they don't consider what might be getting in the way. At the same time, if a salesperson is working alone most of the time, he or she might not realize that the entire team is there for support.

You can choose to hold in-person meetings, schedule conference calls, or create online discussion boards. However you do it, holding regular, open discussions gives your salespeople a forum where they can raise issues and concerns that might be affecting their performance. In fact, some of these issues might be affecting the whole team.

Salespeople often go to their sales managers with concerns that include the following:
Setting up meetings with leads
Finding information on potential customers
Providing the right sales materials
Closing the sale
Dealing with paperwork
If one of these issues is affecting one rep, it could also be affecting the entire team.
Open discussions give you a sense of whether an issue is unique to one person or pervasive through the whole department. These discussions also give the team a chance to brainstorm solutions. If paperwork is a problem, salespeople can recommend ideas that streamline the process, such as templates or automation software. An open forum empowers them to create processes that make their jobs easier.
Issues affecting only one rep can also be solved by fellow salespeople. They'll have advice that helps the salesperson perform better and close more sales. Over time, that rep offers advice for another rep, who then helps someone else, and so on. Again, it's about empowering your team to share insights with each other, which makes the entire team perform better in the long run.
Rapport comes from communication, but communication can't happen when people work in silos. Get rid of the silos; gather your reps for open discussions, and watch them transform into a collaborative and successful sales team.
Upcoming Event
Sales 2.0 Conference


September 18, 2014


More Info
Daily Cartoon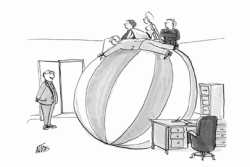 I just came by to make sure everyone's on the ball.