Sales Management Digest
How Sales Managers Can Use Praise to Motivate Reps
Selling Power Editors
If you asked your sales reps what most motivates them, you'd probably guess money. But don't underestimate the value of feeling appreciated.
While many companies throw tons of cash at star players to keep them happy, Adrian Gostick and Chester Elton, coauthors of
The 24-Carrot Manager: A Remarkable Story about How a Leader Can Unleash Human Potential
, say that "recognition and involvement" are the real keys to keeping employees happy.
But be warned: when it comes to recognition, you reap what you sow. Research shows that people better respond to sincere, personalized praise from a direct supervisor than from higher-ups who only come around once or twice a month. If you're going to recognize salespeople for their efforts, you need to know what's going on with them on a daily basis. You should already know what accounts they're working on and what obstacles they're struggling to overcome.
When someone goes above and beyond the call of duty, flattery from a sales manager should fit the occasion. Don't, for example, give a free mug to someone who's just brought in a million dollars' worth of new business. That doesn't mean you have to dole out a brand-new car whenever someone lands a big sale, but you do need to find ways to put top performers in the spotlight. Remember, the meaning behind the award is more valuable than money.
Here are more quick tips for sales managers from Gostick and Elton on how to get the best results possible with praise and recognition.
Be helpful.
Don't double quotas without offering tools to meet them. "Give input," Elton says. "Make sure you're there to help [reps] live up to the new standards."
Be real.
Recognition doesn't always have to be elaborate or formal to be effective, but it does have to be more inspired than a pat on the back and a "Hey, buddy, great job."
Live up to your promises.
"If you promise your sales team members a trip to Switzerland when they hit 110 percent of their quota, you'd better be going to Switzerland," Elton says. "Don't say, 'Well, you know, with all these new changes and cutbacks, even though we hit our numbers, we're going to a place in the Catskills that looks like Switzerland.'"
When crisis hits, be honest.
On the other hand, let's say you absolutely, positively can't follow through on the reward you promised. Elton advises sales managers to be up front and candid about it. "Come up with an alternate plan, and keep the explanation simple," he says. "Say, 'Hey, guys, we hit our quota. I'm really proud of you, but the euro went through the roof, so we actually didn't make a profit. But here's what we're doing instead.' If you're lucky, your salespeople will support you. If you try to hedge or sneak something past them, you're going to break their trust – and when trust is gone, you're finished."
Communicate.
Don't be afraid to simply ask people what they might like to receive as a reward for their hard work. One of the worst things you can do is give a free golf lesson to someone who's allergic to grass.
Upcoming Event
Peak Performance Mindset Workshop for Sales Leaders


Tuesday, December 5


More Info
Daily Cartoon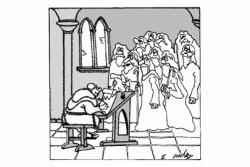 Prophets are up.