Sales Management Digest
A Fix for Summer Slowdowns (& Other Sales Management Challenges)
Heather Baldwin
If you're struggling with a sales problem, chances are you've unwittingly got procedures in place that are encouraging it. The good news: Fixing such problems is usually a matter of rewarding the kind of behavior you desire instead. Here are three common sales management problems and our take on how to fix them.

Sales Management Problem #1: Summer slowdowns. Many executives have resigned themselves to a slowdown in orders during July and August. But it's not so difficult to find ways to keep your team firing on all cylinders straight through the dog days of summer. For example, try moving the quota year-end to September 30. Salespeople will figure out quickly that they need to find ways to keep selling aggressively during the Q4 summer months. Another idea: Double commissions on sales made in July and August, with two caveats. First, make the program available only to those reps who are at or above their year-to-date quotas going into July. Second, don't pay those commissions until April 1 of the following year. This gets your reps to push through two traditionally slow sales months, and also gives them incentive to stick around for the payoff.

Sales Management Problem #2: Top-performer plateaus. If your top reps' achievements seem to be diminishing after a certain level of performance, you've probably put a cap on their commissions – that might not be the greatest sales management approach. Think about it: If reps are making a ton of money on commissions, they're making a ton of sales. And that's a good thing. If you put a cap on earnings, your best reps will put a cap on their performance. Get rid of the cap.

Sales Management Problem #3: Orders versus relationships. The holy grail of sales is a long-term relationship with a highly satisfied customer. Unfortunately, with the pressure to meet quarterly numbers looming constantly, many reps become shortsighted and seek only to push products and make numbers rather than build long-term, trusting relationships. To fix this problem, consider tying a portion of commission to customer satisfaction. For instance, you could allow salespeople to collect 70 percent of their commission when they book the order and release the remainder only when the buyer fills out a survey and expresses complete satisfaction

Great sales management is about understanding that a compensation strategy is not just about driving higher numbers or meeting quotas – it's about driving the right behaviors. In the end, our actions determine the heights we can achieve.

Upcoming Event
Sales 3.0 Conference


Monday, December 4


More Info
Daily Cartoon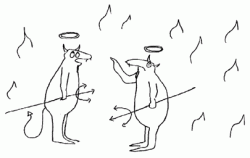 I didn't want one either, but the guy had such a great sales pitch.