Selling Power Magazine Article
Group Dynamic
Geoffrey James
This article is based on a conversation with Sharon Daniels, president and CEO, and Jim Wilcox, a regional training manager, of AchieveGlobal, an organization that delivers leadership, sales, and service programs. They can be reached at AchieveGlobal Headquarters, 8875 Hidden River Parkway, Suite 400, Tampa, FL 33637. Tel: 1-800-566-0630 Web: achieveglobal.com
What's Changed in B2B Sales?
Selling business-to-business (B2B) has become increasingly complex and difficult. Opportunities that were once within the purview of one or two decision makers may now involve an entire committee. Complex sales that previously could have moved forward on a consensus among the buyer's management team are today often subjected to increased levels of scrutiny and formal approval.
There are two sources of these changes in buying behavior. The first source is the economy. Many companies have reacted to the current recession by tightening financial controls and adding additional hurdles in order to more closely manage the purchasing of essential products and services.
The second source of the change in buying behavior is the flood of technology into the infrastructure of most corporations. Because organizations are better connected, large purchases – and the operational changes that they might involve – tend to ripple through a corporation like a sharp tug on one strand of a gigantic web.
Today, it is not unusual for sales professionals to work opportunities in which the customer's senior management, procurement group, legal group, financial group, engineering group, and even human resources has the right to review and approve major purchases. As a result, it is no longer enough for a sales professional to cultivate one or two key contacts inside an account. Instead, it's now necessary to sell to all these constituencies, and each is likely to have a different agenda and reason for being interested in the offering and its impact on the entire customer organization. In addition, each group within this multitude of stakeholders has the potential to delay or block the purchase, which can create a truly byzantine sales cycle. Large opportunities now take much longer to develop and close and thus require sales reps to manage the process with both patience and precision.
Sales Professionals Must Adapt
Selling into these environments requires an enormous amount of business acumen. Sales professionals must fully understand how their offering impacts the primary organization that will be using it. In addition, sales professionals must now understand the specific functions and mandates of related organizations and how they might be impacted, as well.
For example, in the past, a sales rep for a supply-chain software vendor might work with the manufacturing group responsible for stocking supplies, the IT group responsible for supporting the software that the manufacturing group uses, and perhaps a contracts group responsible for the legal aspects of the software agreement. Working with these three groups, while challenging at times, was relatively straightforward, requiring the sales rep to have expertise only in the supply-chain software and what it specifically accomplishes.
Today, by contrast, that same sales rep would not only deal with those three groups, but might need to become involved with the finance group to secure budget, the procurement group to negotiate terms, the human resources group to obtain approval for employee training, and even the customer's supply-chain partners to ensure that the system will support them. Because all these groups are highly cost-conscious, they are all likely to have their own metrics for success, each of which will need to be addressed throughout the sales cycle. These interlocking agendas tend to slow down the purchasing process, creating a desire on the customer's part for pilot programs, test purchases, and other ways of gathering metrics prior to a final decision. As a result, sales professionals must have project-management skill in order to ensure that the opportunity proceeds at a reasonable pace.
Selling Firms Must Adapt
Very few sales professionals have the requisite skill set to sell to so many different groups. Because of this, complex sales in today's B2B environments necessarily involve the participation of multiple groups within the seller's firm.
For example, satisfying the requirements of the customer's IT organization may involve the participation of the seller's IT organization. Similarly, understanding the training ROI within the customer's employee base may involve calculating the ROI for classroom training, based upon work conducted within the seller's HR group. In other words, it takes a village
(continued on page 2)
Free Webinar
How to Improve Your Sales Team's Prospecting Strategy with Video


Tuesday, November 14
2:00 pm ET


REGISTER NOW >
Upcoming Event
Sales 3.0 Conference


Monday, December 4


More Info
Daily Cartoon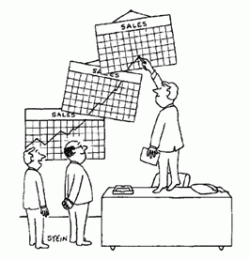 He's a terrific sales manager, but he's not very well organized.