Selling Power Magazine Article
The ABCs of Selling Higher Up
Henry Canaday
"If you get buy-in at the top, the sale is far easier," summarizes sales consultant Sam Manfer. "Salespeople can make a sale without going to the top, but it is harder. The customer cajoles you on price. At the top you get follow-up and cross sales."
There are two absolute rules for selling to C-level customers: Do your homework, and have something important to say. But there are also lots of details to get right.
Prepare for the C-level customer before you visit. Use LinkedIn and other tools to build a network of colleagues who can help make referrals. For example, Tom Begg has links to 500 names in LinkedIn, has started 50 groups, and sends newsletters to group members. Many of these contacts have been useful; they are C-level execs or people who know them. "Don't be shy about asking for help," Begg advises.
Know exactly which C-level exec you need to speak to – CEO, CFO, COO, or other. Who has the most to gain or lose from what you are selling? To answer this question, a rep must know the informal process, apart from formal RFPs, the firm uses to make buying decisions.
"The informal process always trumps the formal one," notes Steve Bistritz, coauthor of
Selling to the C-Suite: What Every Executive Wants You to Know About Successfully Selling to the Top
(McGraw-Hill, 2009). He successfully bid for a major IT firm's business only because the key C-level exec stepped in at the end, overriding the purchasing agent's choice. "The relevant exec can change the rules," Bistritz summarizes.
You may learn this "relevant" executive's name from a low-level manager who warns you not to go over his head. "You must weigh the risk of jeopardizing that low-level relationship by seeking the higher decision maker with losing the deal because you did not go higher," Bistritz explains. "Salespeople must manage risk."
The biggest error is not doing enough homework. Bistritz urges reps to speak to lower-level managers first. Learn about the firm's industry, utilizing information from key customers and competitors, annual reports, CEO letters to shareholders, 10-K and 10-Q reports, and such services as OneSource. "Listen to the quarterly earnings call; stock analysts ask pretty good questions. Look for key initiatives and your solutions for these initiatives."
"Pick the brains of your network to learn what the exec is like and what his issues and landmines are," Manfer urges. "Preparation develops confidence, and confidence makes you believable."
Monitor the prospect constantly, looking for gains, losses, and market movements. Nicholas Read, lead author of
Selling to the C-Suite
, says individual reps must often do all this research. "But if you have a team on the account, there must be a formal schedule and delegation of responsibility for gathering information."
Nearly 90 percent of the execs Read surveyed for his book said they would meet with a salesperson based on a recommendation from someone they know and respect from inside their company or business network. "Know the people they rely on internally, perhaps who are three levels below without title or rank but are true subject experts. These are the people who always stay, no matter the ebbs and flows. If these people recommend you, the exec will see you."
The best references are often C-level peers at other major corporations. "This shows you play at their level," says Jill Konrath, author of
Selling to Big Companies
(Kaplan Business, 2005). "If they get a reference from their peers, they have
(continued on page 2)
Upcoming Event
Sales 3.0 Conference


Monday, December 4


More Info
Daily Cartoon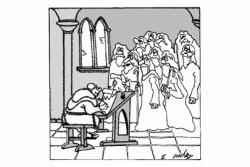 Prophets are up.