Sales Management Digest
Get Your Reps to Bring in Bigger Numbers
Heather Baldwin
How do you take reps who are already operating at their limits and get them to produce more? Here are three tips to consider.
1. Zero in on the best targets.
To bring in bigger numbers, you have to make sure every minute of your team's time is spent with the best opportunities – those with the best revenue/profit potential and those most likely to close. Sound like common sense? Sure – except that many organizations don't know who their best customers are.
Who is your real target market? Which customers are most profitable? You may think you know, but, if you really dig into the numbers, you may be surprised at what you find. You might discover, for instance, that a market that makes up a small share of your business is actually more profitable, closes more often, and buys three times more than the type of customer who makes up the bulk of your client list. Zero in on that smaller group.
2. Redefine your sales process.
Your sales process needs to support the goal not just of bringing in new business, but getting more from existing accounts. So where do you make the changes? That depends on what works with your key customers. Maybe you need more touch points with them or touch points at different places in the sales process than where you had them previously. Or maybe you need to change certain automated touch points – such as switching an email sent out at a certain point to a phone call instead. Whatever the solution, the key is to change your process to fit your change in strategy.
3. Develop a training program.
When you change your sales process, you'll need to follow it with training on the new process and the skill sets the new process demands. For instance, say you shift from holding a lot of one-on-one meetings to hosting group meetings to which reps invite certain types of prospects and share research or analysis or other relevant information. In that case, you might need to hone your reps' group presentation skills – especially if they've long been accustomed to presenting one on one. Or, if you're putting more emphasis on boosting the amount of business that comes from your key customers, you'll probably need to train reps on how to grow revenue in key accounts.
Data is crucial to making good decisions in these areas. Don't go with what you
think
you know; break down the numbers and you'll realize exactly what's going on with customers and your reps. And – in so doing – you'll see where the realistic options for boosting revenues lie.
Insights taken from a conversation with Justin Zappulla of Janek Performance Group.
Upcoming Event
Peak Performance Mindset Workshop for Sales Leaders


Tuesday, December 5


More Info
Daily Cartoon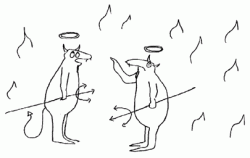 I didn't want one either, but the guy had such a great sales pitch.