Sales Management Digest
The Most Important Predictive Metric for Sales Management
Robert Junke
The number one problem confronting sellers – and, therefore, one of the most critical challenges confronting sales management – is that sellers aim too low on the prospect's organizational chart when they cold call. I call this pervasive problem, "selling below the power line." My conclusion is based on the research results shown below.
The power line differentiates two key types of buyers.
Buyers who are "above the power line" may be described as those who
View what you are selling as an investment in their business
Have the power to buy or, at minimum, participate in the decision making process (a buying committee member)
Will give a seller access to other key buyers who are above the power line who will also participate in the buying decision
Have enough power to agree on the steps leading to a buy decision
On the other hand, buyers who are "below the power line" may be described as those who
Do not have the power to buy, nor do they have the power to cause a decision to take place. They are influencers at best.
Oftentimes shield sellers from the true buyers, who are those above the power line
May favor the competition or view the seller as their competition
Let's define what predictive metrics are before we dive into the one specific to "selling below the power line." Predictive metrics are a special class of metrics because they enable sales management to pinpoint specific sales performance challenges
today
that will prevent achieving objectives
tomorrow
unless they are corrected.
Now let's move on to the specific predictive metric designed to help organizations address this problem. We define an opportunity where the seller has gained access to buyers above the power line (and can be verified based on the criteria above) as an "A" opportunity. We define an opportunity where the seller is below the power line as a "B" opportunity. And, therefore, the key predictive metric is the number of "A" opportunities divided by the number of "B" opportunities – or, simply put, the A/B Ratio. It measures an individual seller's skill to qualify buyers as being above or below the power line and, if below, the seller's ability to successfully negotiate access to power. Importantly, as you move up the org chart of a sales operation, it becomes a key predictive metric to measure the effectiveness of the entire sales operation – from sellers, through managers, and right up to the sales executive.
We have researched this problem over the past 20 years with a number of clients around the world – most of whom had medium to large sales organizations. The table below provides a view of the initial state these clients were in along with the results they achieved as they addressed this problem.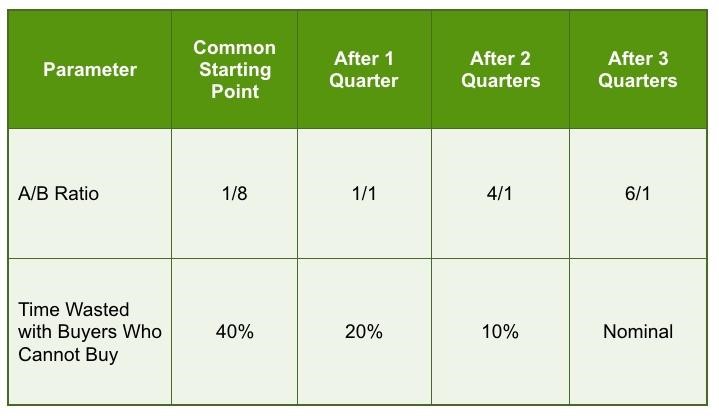 Table 1: A/B Ratio Analysis
Referring to column 2, until managed effectively most salespeople start out at a rather deplorable ratio of 1/8. In other words, for every opportunity above the power line, sellers work on 8 below. And here's a very sobering fact: We found that salespeople with an A/B Ratio of 1/8 literally waste 40 percent of their selling time – two days per week –
selling to people who cannot buy
. Think of the impact this has not only on individual salespeople, but the entire sales organization: long sales cycles, increased discounting, missed forecasts, imbalanced pipelines, and more!
However, if sales management follows the plan described below they can help their sellers achieve a 1/1 ratio after only one quarter. After two quarters they can achieve a 4/1 ratio. After only three quarters they can achieve an industry "Best in Class" steady state of approximately 6/1 (these numbers vary based on several parameters, such as maturity of product line, market share, etc.). Note too the significant increase in the effective use of their time.
How can the entire sales team achieve such results? The answer lies in three key integrated programs:
The sales executive should do the following:

First, ensure their sales stages account for opportunities that are above the power line (the "A" prospects) and below the power line (the "B" prospects). Most do not.
Next, they should determine what their organization's A/B Ratio is today and then establish quarterly improvement goals. The table above provides a good benchmark.
Most importantly, the sales executive should then use a dashboard that provides goal vs. actual measurements for the A/B Ratio. The dashboard must enable them to "drill down" to any level of the organization to pinpoint today's gaps that will impact tomorrow's results. When gaps are found the sales executive should then work with his or her sales managers to proactively resolve them as further described below.
Finally, an A/B Ratio incentive should be built into compensation plans.

Sales managers should role-play with sellers to improve their ability to qualify their buyers during sales calls and develop the needs of buyers above the power line.

The first step is to help them determine if their buyer is above or below the power line. Then, if below, the seller should learn how to negotiate for access to power. This tends to be a very emotionally difficult step for sellers to take during actual sales calls, so role-playing is essential.
Also, many sellers do not do well in dealing with above-the-power-line buyers because they lack confidence or knowledge about how to develop their needs. Therefore, need development role-plays targeted to those buyers are also essential.
Lastly, the sales manager should make sure that, when prospecting, their sellers are contacting buyers who are above the power line to begin with. These three items will have a huge impact on sellers.

As noted above, salespeople should initiate opportunities with buyers who are above the power line. That alone will have a huge impact on their A/B Ratio. But they must also exercise assertive qualification during their sales calls. This will help them determine if they are below the power line and, if so, enable them to confidently negotiate access to power. They should also have management's blessing to disqualify opportunities where access cannot be gained. Again, role-playing with their sales manager will do a great deal to teach them how to do it, thereby increasing their confidence.
By following this integrated plan, an organization can achieve tremendous results – not just in an improved A/B Ratio, but many more wins, dramatically improved pipelines, and a huge impact on individual careers.
Bob Junke is founder and CEO of Adventace® and author of
Create the High Performance Sales Environment®
.
Free Webinar
Closing Time: The 7 Immutable Laws of Sales Negotiation


Wednesday, January 24
2:00 pm ET


REGISTER NOW >
Upcoming Event
Sales 3.0 Conference, San Francisco


Monday, March 12 - Tuesday, March 13


More Info
Daily Cartoon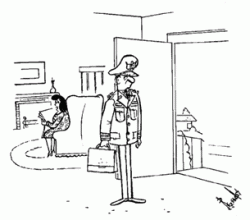 How soon can you be started?