Sales Management Digest
How to Refresh Selling Skills to Land Big Deals
Tom Searcy
I have closed more than $10 billion in sales. I'm 51 years old. These days, I rarely know very much about the products or services I am selling, but I know how to bring the right people together in a deal. I am successful because I understand how sales has changed. I am successful because I don't try to sell today's buyer with yesterday's approach.
Do you want to learn how to sell differently in order to land big deals? I want to help. I can't cover everything in 500 words, but I can give you some ideas. Here they are.
Connect smart people
Your job is to put smart people together from their company and yours. It's not your job to be the smartest person. Outsource being smart about your company's products and services to the smartest people in your company. My very biggest deals were on products I did not completely understand. My job was to put the right people together and keep the conversation moving.


Never sell
If you get caught selling, you are losing. Get caught being curious. Get caught trying to understand. Get caught trying to bring your smart people to help their smart people solve a big problem. I once closed a huge deal by having an "Innovation Summit" where the prospect company brought their engineers to meet with my customer's engineers. Together, they explored technology that was three years away. By the end of the summit, the prospect company had committed to tens of millions of dollars in products. Their engineers insisted upon the purchase, because they trusted my customer's engineers. No selling, just solving.


Pick a fight
If you have never said no, buyers do not believe you when you say yes. You need to disagree with your prospect during your conversations with them. You may win or lose; it does not matter. To trust you, they need to know you are willing to disagree. It is not a trick. There are plenty of things to disagree about when there are conversations occurring in a sales process.


Disqualify prospects early and often
I often ask myself, "Is this company worthy of working with my company?" My company is awesome and delivers amazing value – but just to the right kinds of companies. My job is to find out if this is the right type of company. You may think I am kidding. I am not. I even express this concept to prospects in our meeting. I ask questions to filter OUT prospects. In my current business there are 11 questions and, if the answers are right, they become what we call an enterprise customer. It is not arrogant. It just means that, over time, I have learned I cannot help produce amazing results for every company – only for those companies that meet a set of criteria.
There is a longer list, but this is a good start. Hopefully, you are already doing some of these things. I have found that "kinda" is the same as "no." To win in today's market, the answer has to be "yes" to every question.
Tom Searcy is CEO and founder of Hunt Big Sales – a sales strategy company that helps CEOs double the size of their company – and author of
Life After the Death of Selling: How to Thrive in the New Era of Sales
. Follow @tomsearcy.
Free Webinar
Closing Time: The 7 Immutable Laws of Sales Negotiation


Wednesday, January 24
2:00 pm ET


REGISTER NOW >
Upcoming Event
Sales 3.0 Conference, San Francisco


Monday, March 12 - Tuesday, March 13


More Info
Daily Cartoon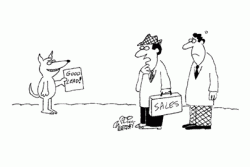 I can't help it, Sid - I'm interested.