Selling Power Magazine Article
The Inside Track to Sales
Henry Canaday
While inside-sales expert Kevin Gaither agrees that the new tools are first rate, he emphasizes two other keys to success: getting the right people and having a well-defined and structured sales process. He believes smart hiring to be the single most important factor in inside sales. He treats hiring like a sales funnel, taking candidates though steps toward the right combination of characteristics.
Gaither develops a benchmark of traits he wants in an inside salesperson. "I'm not looking for the gift of gab, good looks, or to clone my top rep. I want objective characteristics, like high need for achievement, competitiveness, optimism, good organization, and resourcefulness."
He lists the characteristics for each position, then writes questions to test applicants for those characteristics. Then the "funnel process" begins. Each candidate is engaged in a 15-minute phone screen and then a 45-minute phone chat. Those still in the running undergo a 45-minute phone interview, then an online assessment test.
Only a third of the applicants make it through the online assessment and then three hours of face-to-face interviews with Gaither, a top rep, and several managers. Eighty percent of those brought in for interviews will be hired.
Gaither does not mind spending time or money on thorough hiring. Unsuccessful hires cost him three to six times their annual base salary. Thoroughly considered hiring is much less expensive than the Darwinian approach of hiring 10 candidates and expecting one to survive. Moreover, Gaither can follow his multistep plan in two weeks and believes candidates are attracted by a rigorous hiring process. Two-thirds of Gaither's hires meet or exceed goals, and 90 percent are successful within six months.
Thorough hiring applies to both inside reps who execute the entire sales process and the sales development reps who qualify leads and set appointments. "They are not going to be appointment setters for the rest of their lives," says Gaither. "I want people who want to move up to be closers."
Next, "you have to have well-understood steps in the sales process," Gaither stresses. This process need not be extraordinarily complex; there may be only four steps in a highly transactional sale.
"Whatever [steps] customers go through in the buying process should be the sales process," Gaither urges. The sales process need not be perfect – it never will be – but it must be written down.
Reps' observance of this process should be monitored and coached. Gaither points to knowledge shared by CSO Insights, which found that high-performing sales organizations have well-defined sales processes, but low performers mostly do not.
Gaither defines his process by looking at what successful reps do. Often, top reps cannot explain their process, but "they have a series of if-then steps at each stage, and it's the sales leader's job to understand these steps, write them down, and teach them," he explains.
Paying close attention to best (and changing) practices of top reps keeps the sales process dynamic. CSO Insights found that, in the best firms, the sales process is always evolving. Gaither says, "It's never perfect. Leading companies look at how the buyer's journey changes, and that changes the sales process."
Anneke Seley, CEO of Reality Works, stresses the variety of inside-sales roles: "There are quota-carrying reps, just like field reps, except they do not fly and drive most of the time. They fill blended roles and use technology most of the time but can have a [face-to-face] meeting when it is important. There are sales-development or business-development reps who don't carry a quota. There are inside salespeople who manage the chat function when prospects are navigating the Website. Inside reps do inbound lead generation from the Web or phone, and they do outbound prospecting for major accounts. Inside reps assist the field team in complicated accounts. Some focus on renewals and preventing customer churn."
New salespeople entering any of these roles may be groomed for higher responsibilities as they learn and practice sales skills. "You have the ability to bring in sales talent for a nonquota position and then set a career path that will incentivize and retain them," Seley says. "Plus, they will have the technology skills that are going to
(continued on page 2)
Upcoming Event
Peak Performance Mindset Workshop for Sales Leaders


Tuesday, December 5


More Info
Daily Cartoon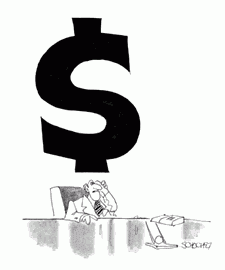 What's my sign?