Selling Power Magazine Article
Profit from Process
Henry Canaday
One other thing: when you've put the right sales process in place, you also have to train reps and managers to execute that process. Keeping everyone motivated to follow the new process and not fall back into old habits is a big sales-leadership challenge. Moreover, real change demands that reps and managers are coached daily, not only to realize full implementation of the changes, but to consistently improve selling in the new way.
These are some of sales executives' most difficult responsibilities, because they cannot be standardized around one model. Markets and products all differ, and every company has a particular sales culture it wants to develop and instill in its people.
Best-practice sales leadership and coaching can be done only by highly experienced trainers and sales executives who have seen a wide variety of sales models and understand the constant change the market forces on even the best sales organizations. The professionals who do this well and can help your team are likely to be specialists in their field.
Sales-training, coaching, and transformation-consulting firms employ these kinds of experts. They understand that sales leadership is based on thorough understanding of the unique challenges each firm faces. They know that sales coaches must be in close touch with the field and the best coaches often come from the field, where they were top-performing reps.
The best coaching firms can help your sales team clearly see its way to better results. They emphasize reinforcement of new methods to sustain changes in sales and build truly durable improvement in results. Here are some of the best.
Richardson's Sales Enablement Practice works with sales managers and top salespeople to develop a sales process tailored to customers' buying behaviors, harvest best practices from the client firm, and deploy best practices from Richardson's 30 years of experience working with sales forces. (
www.richardson.com
)
Profit Builders's team of seasoned managers, sales professionals, certified sales coaches, and executive coaches can coach your team to drive greater sales results, improve reps' sales careers, build a high-performance team, uncover new selling opportunities, and close more business faster. (
www.profitbuilders.com
)
ValueSelling Associates offers a variety of training vehicles that deliver what you need to maximize sales results, including a powerful, simple, sustainable selling methodology that enables your team to sell effectively by consistently qualifying prospects, forecasting accurately, and ramping up new hires faster. (
www.valueselling.com
)
Executive Conversations helps your sales team demonstrate how solutions grow revenue, decrease costs, increase margins, and improve cash flow. The firm tailors training to match roles on the sales team, industries, contacts, and the approval processes of each firm's customers. (
www.conversation.com
)
Sales Readiness Group's (SRG) Comprehensive Selling Skills program is designed to drive superior sales performance through a systematic approach that produces sustainable results. SRG sales training incorporates Motivation to Change, Customization for Relevancy, Spaced Learning for Sustainable Results, Reinforcement, and Measurement. (
www.salesreadinessgroup.com
)
The Brooks Group's training yielded, for 92 percent of clients, a 60 percent increase in ROI within six months. Brooks's IMPACT sales training teaches reps to target and attract the right people with pull prospecting, research, preparing for sales meetings, and addressing emotional subtexts. (
www.brooksgroup.com
)
Sales Excellence's Core Methodology imparts the concepts and philosophies from Bill Stinnett's best-selling book,
Think Like Your Customer,
as a sales-training foundation. The program presents fundamental selling skills and provides a common language and powerful set of selling tools. (
www.salesexcellence.com
)
Fusion Learning helps the world's leading brands solve their biggest challenges in insight, radical innovation, and brand competency. It has worked globally in more than 70 industries, from beer brewing to banking, pharmaceuticals to food. It helps marketers, sales reps, and market researchers. (
www.fusionlearning.com
)
Free Webinar
How to Excel at Being a Sales Leader


Tuesday, November 15
2:00 pm ET


REGISTER NOW >
Upcoming Event
Sales 2.0 Conference


Monday, November 14


More Info
Daily Cartoon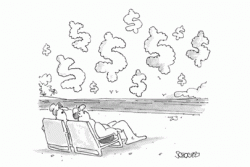 Now just sit back and relax and forget about business.