Selling Power Magazine Article
Turn on the Tap
Henry Canaday
Better, faster, cheaper is possible with the new tools, and soon, this new way of managing the sales pipeline will become the standard. That means slow death for firms that cannot match the competition. Peter Ostrow of the Aberdeen Group, who has taken a look at how the most successful companies use CRM and other pipeline tools to win more business, shares the following critical insight.
The best firms keep their CRM data rich and up-to-date. These firms integrate it into their sales forecasts to produce more accurate predictions of revenue. The companies are thus more financially stable and can better handle new initiatives.
Successful firms seamlessly integrate CRM with social media, using vital information found there, such as the LinkedIn and Twitter profiles of prospect decision makers. These social-media sources provide the crucial personal information that once could be acquired only by expensive in-person contact.
Top firms make sure their sales reps can access the CRM system to enter and retrieve data when they are on the road or in remote locations. Everyone is on the same page all the time, not just when they are at the home office.
In successful firms, marketing lead management is tightly integrated with CRM, and the CRM system can measure the close rate of different types of marketing-generated leads. Just as salespeople and marketers must work closely together, their technologies should, too.
A variety of sales intelligence from various sources should also be tightly integrated with CRM. This includes trigger events, such as appointments or acquisitions, and news items or anything that can help a rep determine when to approach a lead or how to open the conversation. Top companies use CRM to accurately estimate which opportunities are most likely to close. Their data is robust, and the analysis of past performance is reliable, so solid predictions can be made.
Smart firms also use CRM to allocate more sales resources to close winnable opportunities, so revenue is not only forecast accurately, it is actually higher for these firms. Managers know when an opportunity can be won with more effort, and they are confident enough in their judgment to pull in reps, technical support, or other resources.
The best firms strive to remove friction from the sales pipeline in order to avoid hindering reps who are moving toward a successful close. Managers manage by exception, e.g., reps are allowed reasonable flexibility on pricing and discounting, with management approval necessary only when terms go outside preapproved parameters. The companies keep reps and channel partners completely up-to-date on pricing, packaging, and available discounts. Above all, these firms do not lose sales because an executive did not make a decision in time.
Technology can be used to remove wasteful friction in the pipeline. Configure price quote (CPQ) software can automate much of the decision making that would otherwise cause delays as reps and managers try to consult on a potential deal. Another set of tools, partner relationship management (PRM) software, performs the same function for channel partners.
As always, productivity counts. Leading firms generate, per rep per month, more proposals in response to requests (RFPs) than lagging firms. CRM tools can measure this RFP response rate, so managers can determine whether or not they have a productivity problem. Other tools can enable the efficient production of impressive proposals.
Smart firms can automatically update the profile of each customer or prospect in the pipeline based on the customer's behavior, online or off. This, of course, makes close-rate forecasts more accurate. It also means that everyone involved in a potential sale, from rep to marketer to customer service, is working with the most accurate picture possible of each customer.
Marketers in best-in-class firms can deliver marketing messages that are customized for each market segment and personalized for each recipient.
(continued on page 2)
Free Webinar
How to Excel at Being a Sales Leader


Tuesday, November 15
2:00 pm ET


REGISTER NOW >
Upcoming Event
Sales 2.0 Conference


Monday, November 14


More Info
Daily Cartoon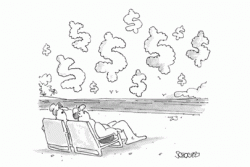 Now just sit back and relax and forget about business.