Selling Power Magazine Article
Listening for Closing Signals
Steve Atlas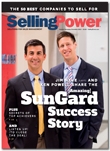 Subscribe Now
Listening for closing signals starts at the beginning of the interview, say one director of sales for a real-estate company in Boynton Beach, FL, and a certified radio-marketing consultant who works for a broadcasting company in Hagerstown, MD.
The sales director's reps use questions to learn each customer's personality type and goals, then tailor the presentation accordingly. Is a customer buying a new home for security, investment, status, to save money or, perhaps, to make life easier? Reps begin each sales interview with a series of such questions.
"Once we know the customer's goal," says the director, "it's easy to show the prospect specific, appropriate benefits of buying the right property. A presentation takes five minutes to several days, depending on the individual and his or her preconceived ideas about what is needed."
The radio consultant we interviewed sells advertising on two oldies radio stations serving three states. "I focus on building long-term relationships, not on one-time sales," she says. Closing a sale may require several visits. She gets the name of each new customer's decision maker for marketing. She requests two appointments: one to find out the potential customer's goals and needs and another to present a proposal.
At her first appointment, the diagnostic meeting, the consultant's goal is "to learn the business's goals and needs." She continues, "I ask questions: Where are the present customers from? When do most customers buy? Are they replacing old products or buying new ones? What are five unique characteristics of the business? Into what geographic areas do they want to expand? Which new customers do they want to reach?"
She does not sell during the diagnostic meeting. She takes notes and offers to present a proposal addressing goals and needs at the next appointment.
After learning the customer's needs, the sales director and consultant position their product or service as the solution and listen for signals that the client is ready to buy.
Solve the Problem and You Have the Sale

The consultant brings a detailed proposal addressing the business's concerns, strengths, and weaknesses. It includes a schedule for radio ads and a sample commercial produced by her studio. Her stations deliver the baby-boomer market.
"I don't use a traditional close," she says. "Closing signals develop as clients agree that my proposal solves their needs. Then we just work out the details. We've already agreed that they want our market and geographic area. Our proposal and sample commercial show how we can deliver that. I treat questions as closing signals. Answering all questions closes the sale and builds a new relationship."
Talk Too Much and You Lose the Sale
The sales director has known many salespeople who just don't recognize when it's time to shut up. Talking or selling too much can frequently be harmful: perhaps after your clients are satisfied and ready to purchase, you continue selling and say something you believe to be a positive but they consider a negative.
He cites an example of a couple who were both technical, analytical-minded people, comfortable with their rather quiet, secluded lifestyle. They decided they had found the perfect home. Their sales agent gave them no opportunity to expand on what they loved about the home. Instead, she praised the ceilings' dramatic height, the open feeling, and how the high accent windows made the home so bright and inviting. This couple rarely if ever entertained and didn't want to hear that their home was inviting. They also realized that the high windows and vaulted ceilings would mean higher energy bills, and their money could be put to better use. They were seconds away from executing a sales agreement and leaving a deposit. Instead, they left and purchased a home elsewhere with a different
(continued on page 2)
Webinar
The End of Sales as We Know It


Tuesday, August 5
1 pm ET / 10 am PT


Register Now
Upcoming Event
Sales 2.0 Conference


September 18, 2014


More Info
Daily Cartoon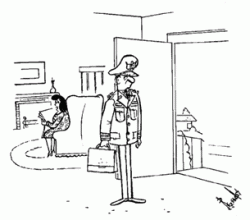 How soon can you be started?