Selling Power Magazine Article
War Stories of Success
Heather Baldwin
GE Healthcare Global Services is introducing into this challenging and cash-strapped environment, not only a new solution, but an entirely new category of solution: hospital operations management (HOM). This means that the GE Healthcare Global Services sales team must convince hospital leaders to carve out funds from an already limited budget and devote them to something entirely new in the world of hospital operations. Talk about a tough sale!
HOM aims to cull inefficiencies from hospital operations using a data-driven approach to optimizing workflow, people, data, and technology. For instance, HOM addresses the pervasive problem of waiting – for admission, equipment, doctors, and test results – by streamlining information about all aspects of care through an operational center; think of it as a hospital air-traffic control center. With HOM, hospitals can improve asset utilization and flow of patient care, reducing wait times and costs while improving quality of care, explains Fran Dirksmeier, general manager of global asset management at GE Healthcare Global Services.
Hospital executives agree it is a compelling value proposition, says Dirksmeier; however, tight finances prompted most prospects to postpone the sales conversation. "They'd say, 'This is terrific, but I don't have the budget for it. Come back and see me another time,'" he says.
Dirksmeier knew the sales conversation needed to change. He needed executives see their issues as urgent and worth their discretionary dollars. That's when he stumbled across an article about provocation-based selling. Unlike product-based sales, which focus on features and benefits, or solution sales, which take a consultative approach to seeking out customer concerns through Q&A dialogue, provocation-based selling provokes customers into regarding certain problems as critical issues they must solve right away – and the vendor's solution as essential to solving them.
"It's about telling customers what should be keeping them up at night," Dirksmeier says. "It's outlining the problem in a way that resonates with executives. Reducing 'wait states' is really important; it has to be a critical issue for them."
Provocation-based selling is more challenging to a customer's thinking than other sales approaches. As Philip Lay, Todd Hewlin, and Geoffrey Moore, managing directors at TCG Advisors, wrote in their March 2009
Harvard Business Review
article, "In a Downturn, Provoke Your Customers," a provocation-based sales conversation is essentially this: "You are thinking about your business along the following conventional lines, but the way we see things, that puts your success in jeopardy. You should be thinking about it in this completely different way."
Dirksmeier says this approach works best with visionary customers who are feeling pressure to change and have the ability to drive that change. "We present the provocation. If it doesn't resonate, we move on. If it does, we are positioned to move forward," he explains.
"We go in and say, 'Here's the situation.' We describe hospital operations in terms of wait states. We acknowledge that hospitals have pressure on all sides. We talk about the day when a patient can come in, everyone knows about it, families are informed about the patient's progress, management knows what all the staff is doing. Then we share our 'war stories' of success to show how we have improved things at other hospitals," says Dirksmeier.
From there, GE Healthcare reps propose an immediate return on investment. "We've developed a 'stairway to value,' where hospitals can get in without a huge commitment," Dirksmeier explains. Executives can start on one "stair," and as that one pays off, they can go up to the next "stair," and so on until they are fully committed.
Prior to implementing provocation-based selling, the HOM sales cycle took more than a year using a solution-selling approach. "We are looking at cutting that time in half with this approach," Dirksmeier concludes.
About GE Healthcare Global Services
GE Healthcare Global Services is part of GE Healthcare, a $17 billion business headquartered in the United Kingdom. Global Services, headquartered in Waukesha, WI, employs more than 11,000 people in
(continued on page 2)
Free Webinar
Five Executive Decision-Making Styles You Can't Afford to Ignore


Tuesday, November 1
2:00 pm ET


REGISTER NOW >
Upcoming Event
Sales 2.0 Conference


Monday, November 14


More Info
Daily Cartoon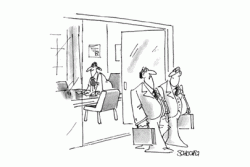 I still can't get used to selling to someone with an earring and a ponytail.