Online Content
A New Sales Process Revitalizes an Industry
Alexandra Levit
Sometimes, confronting the brutal facts can be the first step to better customer relationships.

A few years ago, ocean-transportation services company Maersk Line did just that when its leaders published a manifesto that took the shipping and container industry to task for late shipments. "Customers had to take out huge buffer stocks to compensate for all of the times a ship didn't arrive on time," explains Maersk Line's Global Head of Commercial, Jesper Thomsen."Their products would lose money by the hour."

The market perception wasn't good for Maersk. Container space was increasingly perceived as a commodity, and rate wars for container shipping were in full force. Simply selling space was a one-way ticket to commoditization. Something needed to change.

An industry leader with 22,000 employees, 100,000 customers worldwide, and a container fleet of 1.6 million container units, Maersk announced its intention to shift from the industry's 50-year-old protocols and embrace new standards of performance and a new way of selling. In conjunction with the creators of Solution Selling®, Sales Performance International (SPI), and its local partner, Implement Consulting Group, Maersk developed a new sales curriculum, "Changing the Way We Sell," for its 2,000-person sales force. The purpose was to help Maersk reps understand a customer's critical business issues and proactively introduce new ways of driving value in their business operations.

As part of the transformation, Maersk and SPI embarked on a prioritized program to help salespeople master three of seven core competencies (customer needs assessment, customer value proposition preparation, and customer value proposition articulation). Based on the 10-20-70 principle, the learning plan for each competency included online activities and instructor-led training (10 percent), coaching sessions and joint sales calls (20 percent), and application of tools in real customer situations (70 percent).

SPI secured buy-in from leadership, defined the strategic imperatives and competencies, and facilitated more than 100 training sessions around the world for geographically dispersed sales and management teams. Consistency in the teaching approach was essential. "We had less than four months to be in the ready position, and we had to be certain that our material resonated across cultures," says Jurgen Heyman, vice president and managing director of SPI Europe.

In Maersk's revitalized sales process, the rep proactively targets a customer in a segment in which the company wants to grow. The salesperson gets in the door early to shape the decision-making criteria and adds value by thoughtfully exploring key business issues with the customer.

Under the new selling process, Maersk reps help customers consider issues they hadn't thought about before and find new ways to improve their business. The conversation has moved away from price. SPI's certification for sales reps and managers ensures that the team doesn't revert to the old and less effective techniques.

Maersk also rolled out its "Daily Maersk" program by arranging for ships to leave the same port at the same time daily so that customers can rely on a 95 percent reliability rate and thus expect that products will arrive as scheduled. Considering that the industry standard is 50 percent on-time delivery, Daily Maersk represents a radical shift in mind-set and offers massive cost-saving potential for customers.

The transformation is far from over, but so far, Thomsen estimates that the transformation has achieved an approximately 350 percent ROI and earned the company more on each value-driven shipping container; however, he's also aware that the benefits go beyond profit. As he put it, "What's most important is that we have fundamentally changed the dialogue with the customer and helped to de-commoditize transportation."

Upcoming Event
Workshop: Using Insights to Provide Value to Customers & Win More Deals


July 15, 2014


More Info
Daily Cartoon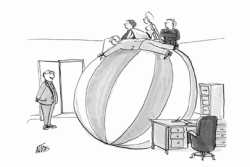 I just came by to make sure everyone's on the ball.