Selling Power Magazine Article
Robust Tools for Reps
Henry Canaday

Subscribe Now
The sales business never changes…right? Well, in a sense that is true. Sales has always been an exercise in finding leads, qualifying opportunities, developing relationships, understanding needs, presenting solutions, and closing. But it all happens much faster now. Indeed, prior to purchasing, customers have already done much of their homework on the Web before they ever speak to a sales rep. And when the rep does engage, he or she must be ready to start wherever the customer is in the buying cycle – wasting none of the customer's time – and move toward the close.
Reps may catch their customers anywhere – at the office, at home, or on the road – and on any device. Online engagements present reps with wonderful opportunities to sell faster and much more economically than they could even in person or over the phone.
That's the upside. The caution is that reps and their managers need to tap a variety of online engagement tools, each suited for a particular task. They're out there. Software vendors have developed a robust set of applications, some for lightning-fast work, others designed for more systematic presentations. Reps can choose the right tool for their product, style, and market. Here are a few of the best.
Glance
Glance (ww2.glance.net) enables fast screen-sharing and co-browsing. Reps can see prospect problems and present solutions in an instant. Glance allows sales reps to escape the slow pace and rigidity of traditional online meeting tools when on-the-fly sales and support calls are needed. Reps can visually engage mobile customers on computers, tablets, or smartphones.
Showpad
Showpad (
www.showpad.com
) improves sales effectiveness by enabling mobile sales. It lets managers upload and organize sales materials so they can easily distribute content to the sales team, and they can tailor the look and feel of the iPad application to match the firm's brand identity. Showpad also gathers CRM data and collects feedback from the sales team.
PresentiaFX
A compelling alternative to PowerPoint, PresentiaFX (
www.presentiafx.com
) enables reps to stand out from the crowd, control brand identity, ensure consistency, and manage presentations across regions and divisions. It runs on PCs, Macs, iPads, Android devices, and BlackBerry tablets and allows managers to track presentations.
Brainshark
Brainshark (
www.brainshark.com
) improves sales productivity by better preparing and training reps, engaging prospects, and advancing business opportunities. It's easy to use and transforms static documents into dynamic, mobile-ready content that can be accessed quickly and viewed on demand or presented live, anytime, anywhere.
i-MEET

i-MEET (
https://i-meet.com
), a global community of meeting planners and sales reps, helps reps capture long-term interest opportunities. It generates electronic requests for information that are permission based and qualified. i-MEET's lead-generation engine allows reps to build prospects with selection criteria before a destination and venue decision is made.
Join.me

Join.me (
https://join.me
), the meeting application for the masses, combines instant screen-sharing and powerful meeting tools in software that anyone can use to present, train, demonstrate, or discuss. Join.me is designed to be intuitive and accessible, providing features that reps will use every day for everything from show-and-tell to formal presentations.
Upcoming Event
Workshop: Using Insights to Provide Value to Customers & Win More Deals


July 15, 2014


More Info
Daily Cartoon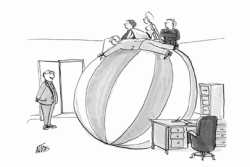 I just came by to make sure everyone's on the ball.