Selling Power Magazine Article
Essential Technology Tool Kit
Henry Canaday

Subscribe Now
Few will argue that digital technology is now essential to a successful sales operation. But which tools do managers actually need the most? And what software do the experts recommend for large sales forces?
James Baldwin is business development manager of Irex, which sells industrial insulation. The firm has 31 branches, each with its own account manager who is a "seller-doer," according to Baldwin. "They oversee the business.
"We are old school," Baldwin says. "I have a basic CRM system, but I wish I had a better CRM." He says Irex account managers are set up to use the system, but, he explains, they do not. They build relationships with prospects in the "old-fashioned" ways, at golf outings and lunches, but they also use Twitter and Facebook.
In contrast to Irex's "traditionalists," Baldwin likes quick response (QR) readers to read codes on marketing brochures and in advertisements. He has a QR reader on his iPhone. "I don't have to pick up business cards, I just read the QR code," he explains.
Irex does not use digitized lead lists, but Baldwin says its Website is very important. "It's not just for customers but for other firms that might want to joint venture with us. They can get more information and a point of contact."
Rich Dean is senior director of marketing and sales at Sutter Physician Services, which sells electronic health-record services to independent physician practices. With a sizable team of reps and support staff, Dean's chief sales technology is Microsoft Dynamics CRM. He has used Salesforce in previous sales jobs and was wary of Microsoft Dynamics at first. But he has been pleased with its performance, especially the way it integrates with Outlook Calendar and other programs.
Reps use CRM to record daily activity regarding contacts, sales demonstrations, and follow-up activities. Dean knows the close ratio at each stage, so he can make solid forecasts, projections, and strategic changes. He says reps have become disciplined in using Microsoft Dynamics: "They appreciate how it keeps them honest and on plan."
Sutter reps must demonstrate electronic health-record technology to physicians. Since doctors use tablets, laptops, and PCs, reps carry laptops for the demo, showing prospects how the technology would be used in practice. Offline, reps use these same laptops to update CRM data daily.
Lead gathering is not complex, so Dean does not use digitized lead data. He uses Microsoft Dynamics for almost all sales analytics.
Sales-operations consultant Dylan Gray says Salesforce (SFDC) is the number one platform for managing sales, having used it for 70 deployments with user counts up to 3,500 per firm. He recommends these add-ins, however: 1) an address tool to ensure that all contact information on countries, states, and zip codes is accurate; 2) Super Unfollow Buttons for SFDC Chatter and Chatter's Unfollow Rules, so that, when a deal closes, these tools automatically remove it from the flow; 3) Miller Heiman's Blue Sheet for strategic selling and Gold Sheet plug-in for SFDC, which aids account planning; 4) EchoSign and DocuSign for obtaining electronic signatures; and 5) Data.com. When linked to D&B's database, Data.com cleans and updates data, as well as fills in what's missing, and it finds contacts for lead lists.
SalesClic is also useful. It uses smart metrics to increase forecast accuracy using historical win rates. If a rep predicts that a just-qualified deal will close in the next quarter but has never closed a deal for this product at this stage within, say, nine months, SalesClic flags it as high risk.
DupeBlocker, another complement to SFDC tools, prevents entry of duplicate leads in real time. Gray also likes the vCard feature in Microsoft Outlook, which enables one-click contact entry.
On personal devices, Gray thinks Microsoft's new Surface Pro tablet could be a winner. He says, "It has all the capabilities of a laptop, so you don't lose anything you can run on a laptop. But it is light and portable, unlike a laptop. It can plug into HDMI devices, such as projectors, so you can show presentations on screens. And it has a keyboard and mouse, [which are] familiar to users."
Gray acknowledges that reps increasingly do not want to drag laptops around, but smartphone screens are too small for displaying information. "Tablets are the answer," he explains, "but Samsung tablets and iPads are not full Windows PCs, and major
(continued on page 2)
Upcoming Event
Workshop: Using Insights to Provide Value to Customers & Win More Deals


July 15, 2014


More Info
Daily Cartoon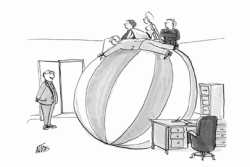 I just came by to make sure everyone's on the ball.