Sales Management Digest
Conclusions That Get Action
Kevin Davis
To get better results from your sales meetings, study how great speakers inspire others to take action. Here are just three examples.
Abraham Lincoln:
"Government of the people, by the people, for the people..."

Patrick Henry:
"Give me liberty or give me death."
John F. Kennedy:
"Ask not what your country can do for you, ask what you can do for your country."
Great leaders and speakers have carefully planned conclusions that inspire others to act. What can you learn from these great leaders that will improve the effectiveness of your sales meetings? What you say last is what your salespeople remember most. If you want people to take action after the meeting, you need to plan and then present a convincing conclusion.
Here is a step-by-step method to plan and present a convincing conclusion at your next sales meeting.
1) When you sit down to prepare your meeting, write the ending first. What should salespeople be able to do after the meeting? What will they need to do differently in the future? What does your top salesperson do that your other salespeople don't? When you write the ending first, it will be much easier to plan the introduction and body of your meeting.
2) Be very specific about what you want your salespeople to do. Avoid vague words, such as "understand" and "appreciate." List no more than two or three action steps; any more will be difficult to remember. Tell your audience members specifically what you want them to do and when:
• "Schedule five face-to-face appointments with new prospects for next week."
• "Ask each prospect what he likes best and least about his current method."
• "Ask each prospect to speculate on future time, money, and productivity costs if she doesn't solve her company's problem now."
3) Make at least one of the actions something simple that your salespeople can do immediately. As the saying goes, well begun is half done. If your salespeople leave with something simple to do, they are more likely to do it. When they take action and achieve results, they will be more likely to act on the other things you asked them to do.
4) Outline your conclusion as follows:
• Summarize key points in two short but memorable sentences.
• Restate the main benefit and appeal to salespeople's emotions, as well as logic. Emotional appeals include those that relate to financial freedom, health and vitality, safety, romance, piece of mind, and personal fulfillment.
• Tell your salespeople specifically what you want them to do.
5) Plan to conclude well before your time is up. How often have you run out of time at the end of a meeting and rushed to finish? You aren't holding your salespeople's attention if they're looking at the clock. Anticipate that your meeting will take 30 percent longer than you think. If you normally have one-hour sales meetings, plan to conclude at the 40-minute mark.
6) Save your best aha points for last. Too many sales meetings flow like a bell curve, up at the beginning and down at the end. This brings your audience down just before the most important part: your conclusion. Organize yourself by writing just one topic on one Post-It note each and then arranging your topics to ensure that you build up to a conclusion, not down.
7) Follow up to measure the action taken. Great speakers know that their success is measured by the action that the audience takes as a result. Be specific in your follow-up. For instance, you might ask, "How many new face-to-face appointments did you set for last week? What questions did you ask? What were your results?"
What you say last is what your salespeople will remember most. A well-planned and well-presented conclusion can inspire your team to action. When you follow these simple steps, your meetings will be more effective. Plus, you'll feel a great sense of accomplishment when you see your ideas actually being implemented in the field.
Free Webinar
Digital Selling: The 5 Things You Need to Do Differently in 2017


Friday, February 24
1:00 pm ET


REGISTER NOW >
Daily Cartoon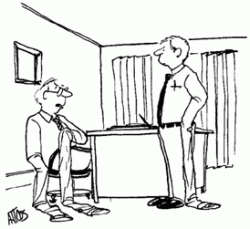 Let's roll up our sleeves and go to work.