Selling Power Magazine – June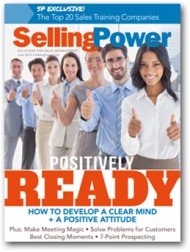 Features in this issue include:
How to Develop a Clear Mind and a Positive Attitude
Selling Power's 2016 Top 20 Sales Training Companies
Persuasion: Learn the Secrets of Ultra Successful Salespeople
How to Solve Problems for Customers
How Good Managers Use Information
Daily Boost of Positivity
An amazing number of salespeople suffer from a lack of belief in their own talents and abilities. They become their own worst enemies. When you predict you can't, you work harder to prove just that. You might even avoid asking for the order to remove the possibility of rejection. But when a customer says no, it does not mean the end of the world, your life, or your career. It only means that the customer has chosen to say no at that particular moment. It does not mean that the…
SUBSCRIBE TO THE DAILY BOOST OF POSITIVITY
White Papers, Reports, and Special Offers
Webinar
How to Fast Track Sales and Increase Pipeline Visibility


Thursday, July 14
10 am PT / 1 pm ET


Register Now
Upcoming Event
Sales 2.0 Conference, Philadelphia


Monday, November 14


More Info
Daily Cartoon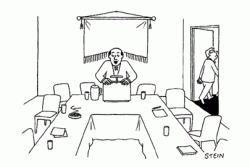 Everybody leaving reminds me of another funny story...