Selling Power Magazine – March 2015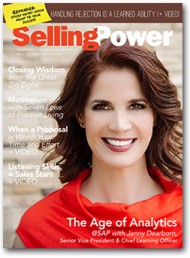 Features in this issue include:
The Age of Analytics – Insight from Jenny Dearborn, SVP & Chief Learning Officer at SAP
Closing wisdom from the legendary Zig Ziglar
Motivation: 7 Laws of Positive Living
Using Data to Predict Customer Behavior
Daily Boost of Positivity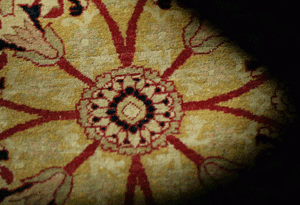 Many sales professionals are incredibly creative – they just don't realize it. Don't assume you can't do something before you even try. Children are too smart to make this mistake. They're creative because they follow their natural impulses. Adults just need a good atmosphere that promotes their creative power. Humor, books, and exposure to the arts are important aids in building up your creative self. A team that practices brainstorming in a relaxed atmosphere helps enhance creativity. The best salespeople have a great intuitive instinct; that is the same source of creative energy. Be sure to make the most of…
SUBSCRIBE TO THE DAILY BOOST OF POSITIVITY
White Papers, Reports, and Special Offers
Webinar
How to Equip Your Sales Force to Have Smarter Business Conversations


Thursday, April 9
11 am PT / 2 pm ET


Register Now
Upcoming Event
Sales 2.0 Conference


Monday, April 27 – Tuesday, April 28


More Info
Daily Cartoon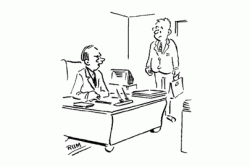 So, I'm the world's worst sales manager - now isn't that a coincidence...