Selling Power Magazine – August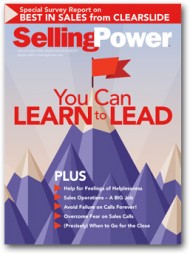 Features in this issue include:
3 Essential Lessons in Sales Leadership
Sales Operations - A BIG Job
5 Strategies for Transforming to a Best-in-Class Sales Organization
Overcome Fear on Sales Calls
(Precisely) When to Go for the Close
How to Manage the Feeling of Helplessness
Daily Boost of Positivity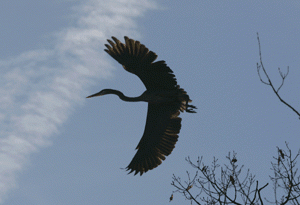 Starting a sales career is like flying a plane: to get off the ground, you must have full throttle. But you can't keep it at that speed or the engine will burn out. When the plane reaches cruising altitudes, you pull back a little bit. This is the way sales careers go. At a certain point, you have to take off at full throttle and get to the height where you cruise for a while. The most important thing to remember is to keep your fuel levels high and stay pointed in the right direction.
SUBSCRIBE TO THE DAILY BOOST OF POSITIVITY
White Papers, Reports, and Special Offers
Webinar
9 Common Sales Transformation Pitfalls and How to Avoid Them


Wednesday, September 28
11 am PT / 2 pm ET


Register Now
Upcoming Event
Sales 2.0 Conference


Monday, November 14


More Info
Daily Cartoon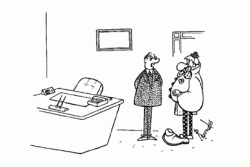 With this particular new account use whatever trick you have up your sleeve to get your foot in the door.