Selling Power Magazine – December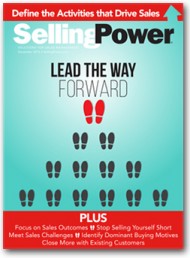 Features in this issue include:
Lead the Way Forward: Develop Your Leadership Skills
Define the Activities that Drive Sales
Why Sales Productivity is Not Enough
Expert Advice for Sales Managers
Stop Selling Yourself Short
Close More with Existing Customers
Daily Boost of Positivity
You know that what you say to prospects can make or break your presentation, but what you say to yourself can be just as important. Self-talk affects your attitude, and your attitude affects sales performance. Are you aware of any tendencies to engage in negative self-talk, either to yourself or to others? Increase your awareness so that you stop talking down to yourself. Make a commitment to start sending yourself more positive and constructive messages.
SUBSCRIBE TO THE DAILY BOOST OF POSITIVITY
White Papers, Reports, and Special Offers
Free Webinar
New Ways to Boost Sales Productivity in 2017


Thursday, January 5
1:00 pm ET


REGISTER NOW >