Selling Power Magazine – October 2014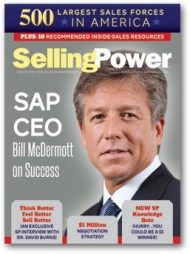 Features in this issue include:
The SP 500 - The 500 Largest Sales Forces in America
Use this $1 million sales-negotiation strategy on your next call
Think better, feel better, sell better (exclusive SP interview with Dr. David Burns)
10 Inside Sales resources to boost your sales team's productivity
Daily Boost of Positivity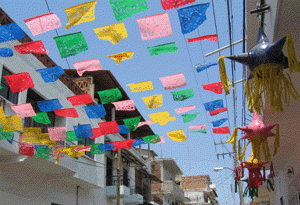 The great novelist Leo Tolstoy had more than his share of hardship but found a way to rise above his circumstances, writing, "I believe that life must and can be a constant joy, and the wise person is always joyful." Instead of viewing life as a series of tests or trials, learn to view it as a gift. You don't have to jump for joy when you get a speeding ticket, but most of us would have to admit that the things we worry about really don't matter much in the grand scheme of things.
SUBSCRIBE TO THE DAILY BOOST OF POSITIVITY
White Papers, Reports, and Special Offers
Webinar
Secrets to Success with Mobile Sales Enablement


Wednesday, November 5
1 ET / 10 am PT


Register Now
Upcoming Event
Sales 2.0 Conference


Monday, March 16


More Info
Daily Cartoon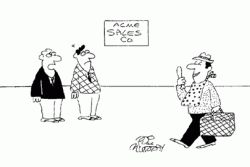 He irks me - always bragging about what a picnic his territory is.