Selling Power Magazine – May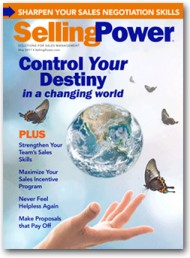 Features in this issue include:
Control Your Destiny in a Changing World
Strengthen Your Team's Sales Skills
Maximize Your Sales Incentive Program
Never Feel Helpless Again
Create Sales Proposals that Pay Off
Sharpen Your Sales Negotiation Skills
Daily Boost of Positivity
Persistence and determination together are omnipotent. You never fail unless you quit. Successful individuals have clearly defined game plans, which they review constantly. They know where they are going every day, every month, and every year. Things don't just happen in their lives; they make them happen. Don't let anything stand in your way. Your level of persistence in the face of adversity and disappointment will be a measure of belief in yourself. Associate with people who share your goals and work habits. You must follow the leaders who are…
SUBSCRIBE TO THE DAILY BOOST OF POSITIVITY
White Papers, Reports, and Special Offers
Free Webinar
Top Pitfalls that Keep Your Sales Team from Selling - and How to Fix Them


Thursday, June 8
2:00 pm ET


REGISTER NOW >
Daily Cartoon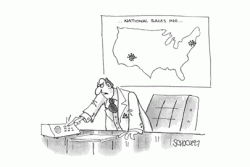 Miss Simpson, all our salespersons are in Las Vegas and Atlantic City again!