Selling Power Magazine – July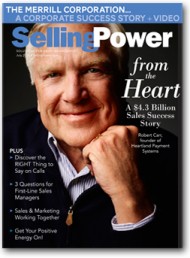 Features in this issue include:
From the Heart: The $4.3 Billion Sales Success Story of Heartland Payment Systems
Discover the Right Thing to Say on Calls
3 Questions for First-Line Sales Managers
Sales & Marketing Working Together
The Merrill Corporation: Unlocking Its Full Potential
Daily Boost of Positivity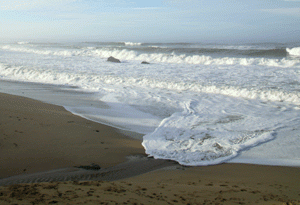 Some things, especially the things we want most, take time. If you want someone's business badly enough, you might need to be persistent and try several times to make contact. Be patient and don't give up if the account is worth it. Don't push for too much, too soon. The negotiating process may take time. You may have to make contact over a period of months. Don't let impatience to close a deal cost you money.
SUBSCRIBE TO THE DAILY BOOST OF POSITIVITY
White Papers, Reports, and Special Offers
Upcoming Event
Sales 2.0 Conference


Monday, November 14


More Info
Daily Cartoon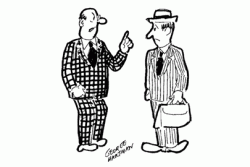 Yes, I got an order for you, Hawkwell - get out!