Selling Power Magazine – June 2017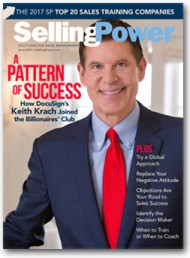 Features in this issue include:
A Pattern of Success: Featuring former DocuSign CEO Keith Krach
Learn How to Implement a Global Approach to Sales
How to Replace a Negative Attitude with Positive Energy
How Objections Represent Your Road to Sales Success
When to Train or When to Coach
Daily Boost of Positivity
Trust is a critical ingredient in sales; people don't buy from a sales rep they don't trust. So how do you establish trust in a world of skeptics? Start by focusing on your credibility, and admit weakness. Prospects know your company and product are weak in some areas. You boost your credibility when you admit to those weaknesses rather than try to sweep them under the table. Even better: turn a perceived weakness into a desired benefit. For instance, if your software doesn't have all the bells and whistles of…
SUBSCRIBE TO THE DAILY BOOST OF POSITIVITY
White Papers, Reports, and Special Offers
Free Webinar
What Does the Future of Sales and Service Look Like?


Thursday, July 13
2:00 pm ET


REGISTER NOW >
Daily Cartoon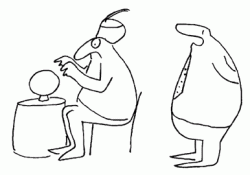 Snitkin, there really isn't any substitute for plain old prospecting.