Selling Power Magazine – April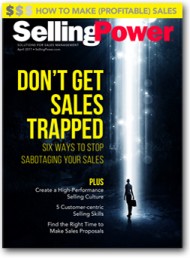 Features in this issue include:
Don't Get Sales Trapped: Six ways to stop sabotaging your sales
How to Make (Profitable) Sales
Create a High-Performance Selling Culture
5 Customer-centric Selling Skills
The Right Time to Make a Sales Proposal
Daily Boost of Positivity
Willpower helps us move in a positive direction. Most of us, however, experience times when willpower falters. To develop your "willpower muscles," be aware of times or situations when you feel weak, and identify small steps you can take to stay on track. Focus on the long-term goals you've set, and then create daily, realistic goals. You can also recruit someone else to hold you accountable or call you out when you slip.
SUBSCRIBE TO THE DAILY BOOST OF POSITIVITY
White Papers, Reports, and Special Offers
Daily Cartoon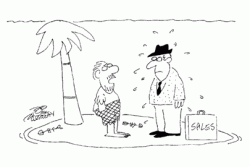 I specifically remember stating that no one was to call during working hours.