Selling Power Magazine – June 2017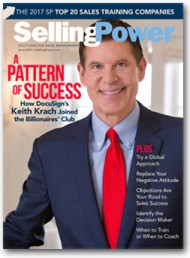 Features in this issue include:
A Pattern of Success: Featuring former DocuSign CEO Keith Krach
Learn How to Implement a Global Approach to Sales
How to Replace a Negative Attitude with Positive Energy
How Objections Represent Your Road to Sales Success
When to Train or When to Coach
Daily Boost of Positivity
Stop whatever you're doing and delight in being alive! Sense the physical processes inside you, the good in people around you, and the beauty of the world you live in. Keep everything in context; smile and laugh (especially at yourself). Accept and embrace change. No matter what you want, whatever happens is going to happen. Be fit for success. Exercise and take care of yourself. Speed up your body action by moving to music, stretching, or jogging. Movement helps eliminate pent-up stress by aiding the removal of stress-produced chemicals that…
SUBSCRIBE TO THE DAILY BOOST OF POSITIVITY
White Papers, Reports, and Special Offers
Free Webinar
When the Old Ways Wont Cut It: Creating Demand in an Ever-Changing Market


Thursday, July 20
1:00 pm ET


REGISTER NOW >
Daily Cartoon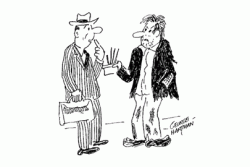 I remember now - you were with the company that always had the lowest price!