Selling Power Magazine – June 2015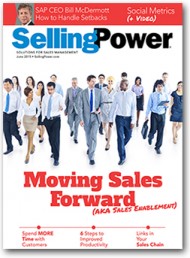 Features in this issue include:
How Sales Enablement Moves Sales Forward
Eliminate the Gap between Sales & Marketing
Spend More Time with Customers
Six Steps to Better Productivity
Jeffrey Gitomer on Happiness
Daily Boost of Positivity
In times of great financial success, people confuse capital gains with brains. In times of economic slowdown, people deceive others because they are unable to admit that managers – even those at the top – are vulnerable. They rigidly cling to the illusion that they can singlehandedly change the world. A boom makes average performers look brilliant; a recession can make people who took credit for easy pickings look like fools. No matter what state the economy is in, the secret to success is to appraise reality objectively.
SUBSCRIBE TO THE DAILY BOOST OF POSITIVITY
White Papers, Reports, and Special Offers
Webinar
How to Unclog Your Sales Pipeline


Wednesday, July 15
11 am PT / 2 pm ET


Register Now
Daily Cartoon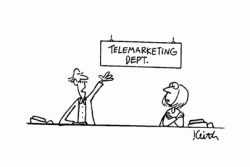 I might be Bob Smith to you, but on the phone I'm Pavarotti.