Selling Power Magazine – January 2015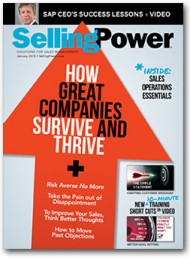 Features in this issue include:
COVER STORY: How great companies survive and thrive
Tips and best practices for Sales Operations professionals
Improve your sales by thinking better thoughts
The art of creating customers
Transitioning from selling to supervising
Daily Boost of Positivity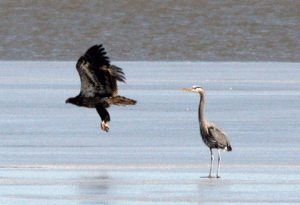 In both sales and life, guts come before glory. But sales professionals will not succeed solely by a willingness to take risks. First and foremost, honor and purpose must exist. Nothing good comes to those in sales who think only of themselves. Define for yourself the fundamentals of honor and good sense. Leave no room for failure to meet these expectations. You should never be caught with unclear convictions. Make sure your purpose is definite before committing to taking the necessary risks to succeed.
SUBSCRIBE TO THE DAILY BOOST OF POSITIVITY
White Papers, Reports, and Special Offers
Webinar
Selling Smarter and Faster: Increasing Revenue and Profit Velocity with Price-Optimized CPQ


Thursday, January 29
9 am PT / 12 pm ET


Register Now
Upcoming Event
Sales 2.0 Conference


Monday, April 27


More Info
Daily Cartoon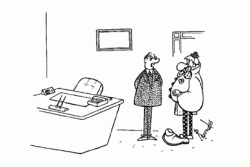 With this particular new account use whatever trick you have up your sleeve to get your foot in the door.