Selling Power Magazine – April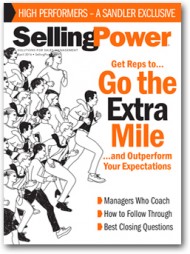 Features in this issue include:
Get Reps to Go the Extra Mile and Outperform Your Expectations
Managers Who Coach
How to Follow Through
The Best Sales Closing Questions
Top 10 Behaviors for High-Performing Salespeople
Daily Boost of Positivity
Hope and opportunity go hand in hand for sales professionals. Hope can kick-start a great day, which can snowball into a great week, month, year, and beyond. With the power of hope, you create your own opportunities. Whenever you think you have nothing, stop and reconsider. Hope is something that can't be taken away from you. If you don't feel it, go and find it. Just around the corner from hope lies the opportunity you've been waiting for.
SUBSCRIBE TO THE DAILY BOOST OF POSITIVITY
White Papers, Reports, and Special Offers
Webinar
How to Create & Sustain Relationships of Value


Tuesday, May 10
10 am PT / 1 pm ET


Register Now
Upcoming Event
Sales 2.0 Conference, San Francisco


Monday, July 18 – Tuesday, July 19


More Info
Daily Cartoon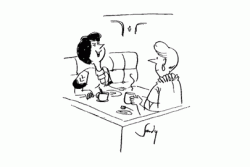 Well, that was a good power lunch for me.
Was it a good power lunch for you?