Selling Power Magazine – December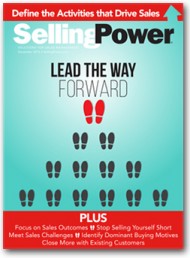 Features in this issue include:
Lead the Way Forward: Develop Your Leadership Skills
Define the Activities that Drive Sales
Why Sales Productivity is Not Enough
Expert Advice for Sales Managers
Stop Selling Yourself Short
Close More with Existing Customers
Daily Boost of Positivity
Dr. Norman Vincent Peale used to compare negative thoughts to birds flying overhead. "We can't keep the birds from flying over our heads," he said. "But we can prevent them from building a nest in our hair." We all have the power to choose what kinds of thoughts take up space in our mind. The fact that you sometimes produce negative thoughts doesn't mean you have to accept them unconditionally.
SUBSCRIBE TO THE DAILY BOOST OF POSITIVITY
White Papers, Reports, and Special Offers
Free Webinar
New Ways to Boost Sales Productivity in 2017


Thursday, January 5
1:00 pm ET


REGISTER NOW >
Daily Cartoon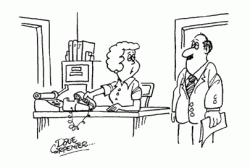 That was the seventh employee to call in sick today.
It sounds like we have a staff infection.