Selling Power Magazine – April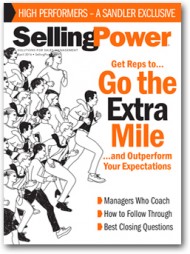 Features in this issue include:
Get Reps to Go the Extra Mile and Outperform Your Expectations
Managers Who Coach
How to Follow Through
The Best Sales Closing Questions
Top 10 Behaviors for High-Performing Salespeople
Daily Boost of Positivity
When we are completely happy, we also feel that we have more energy. That can translate into more productive days and enjoyment of day-to-day activities. Conversely, continual unhappiness and longing to be happy drain us. Although pleasure can lighten unhappy moments, happiness is the result of long-term meaning. Whenever we engage in work that we really love to do, we will always lose track of time and feel an abundance of energy.
SUBSCRIBE TO THE DAILY BOOST OF POSITIVITY
White Papers, Reports, and Special Offers
Webinar
How to Create & Sustain Relationships of Value


Tuesday, May 10
10 am PT / 1 pm ET


Register Now
Upcoming Event
Sales 2.0 Conference, San Francisco


Monday, July 18 – Tuesday, July 19


More Info
Daily Cartoon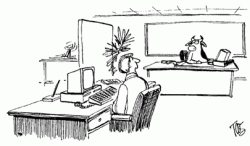 You're doing it again, you're doing it again.
You're chewing your cud while I'm trying to concentrate.