Selling Power Magazine – June 2015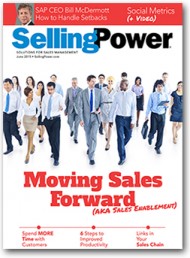 Features in this issue include:
How Sales Enablement Moves Sales Forward
Eliminate the Gap between Sales & Marketing
Spend More Time with Customers
Six Steps to Better Productivity
Jeffrey Gitomer on Happiness
Daily Boost of Positivity
Most people assume that the path to success starts at the bottom and moves increasingly upward, but this is not the case. The path to success is never a straight ascension. Not only will there be setbacks, but there will be backtracks, digressions, and periods of aimless stagnation. The important thing is never to remain stuck in any of these states. That is why it is so important to examine your progress routinely in relation to your goals. Setbacks are easy to identify, but digressions and stagnation are more insidious obstacles. Never allow these circumstances to cause you to fall…
SUBSCRIBE TO THE DAILY BOOST OF POSITIVITY
White Papers, Reports, and Special Offers
Daily Cartoon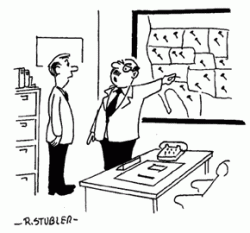 I'm not firing you this time, Jones, but just to emphasize the insecurity of your job here, I'm loosening your pin a little.