Selling Power Magazine – August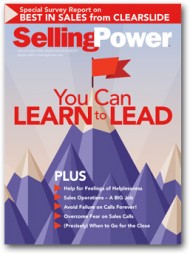 Features in this issue include:
3 Essential Lessons in Sales Leadership
Sales Operations - A BIG Job
5 Strategies for Transforming to a Best-in-Class Sales Organization
Overcome Fear on Sales Calls
(Precisely) When to Go for the Close
How to Manage the Feeling of Helplessness
Daily Boost of Positivity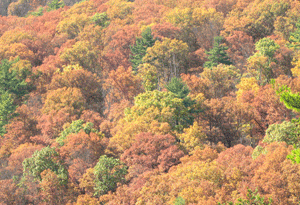 A key element of success is the ability to present effectively. When standing in front of peers, superiors, and customers, you need to exude confidence, professionalism, and in-depth knowledge of your field. Are you comfortable behind the podium? If so, great, but that doesn't necessarily make you a good speaker. Invest time at your local Toastmasters chapter to hone your presentation chops. Within 6 months to a year, you should be able to hold an audience's attention with enjoyable, interesting presentations.
SUBSCRIBE TO THE DAILY BOOST OF POSITIVITY
White Papers, Reports, and Special Offers
Webinar
9 Common Sales Transformation Pitfalls and How to Avoid Them


Wednesday, September 28
11 am PT / 2 pm ET


Register Now
Upcoming Event
Sales 2.0 Conference


Monday, November 14


More Info
Daily Cartoon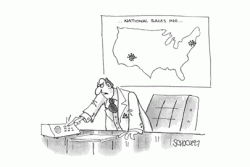 Miss Simpson, all our salespersons are in Las Vegas and Atlantic City again!