Selling Power Magazine – August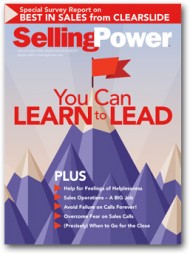 Features in this issue include:
3 Essential Lessons in Sales Leadership
Sales Operations - A BIG Job
5 Strategies for Transforming to a Best-in-Class Sales Organization
Overcome Fear on Sales Calls
(Precisely) When to Go for the Close
How to Manage the Feeling of Helplessness
Daily Boost of Positivity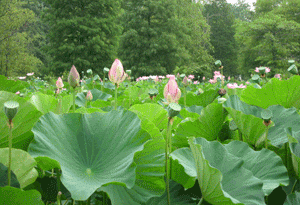 Good communicators are truly rare. It's likely that, if your career is stalled, you would benefit by spending time honing your communication skills. Hundreds of books exist that can help, not only with interpersonal communication, but also with related topics, such as negotiation, persuasion, and charisma. Communication skills are probably the greatest factor in determining how people deal with work-related conflicts and maintain strong relationships.
SUBSCRIBE TO THE DAILY BOOST OF POSITIVITY
White Papers, Reports, and Special Offers
Webinar
9 Common Sales Transformation Pitfalls and How to Avoid Them


Wednesday, September 28
11 am PT / 2 pm ET


Register Now
Upcoming Event
Sales 2.0 Conference


Monday, November 14


More Info
Daily Cartoon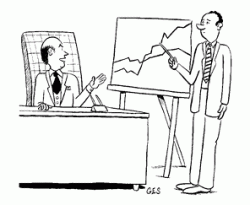 How can we have more returns than sales?