Selling Power Magazine – May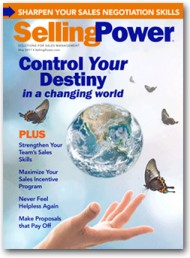 Features in this issue include:
Control Your Destiny in a Changing World
Strengthen Your Team's Sales Skills
Maximize Your Sales Incentive Program
Never Feel Helpless Again
Create Sales Proposals that Pay Off
Sharpen Your Sales Negotiation Skills
Daily Boost of Positivity
Here are some strategic self-evaluation questions to which successful people always know the answers: 1) What is life's purpose for you? 2) What do you want out of life? 3) What makes you happy? 4) Can you overcome the competition? 5) How can you prepare yourself so that your goals prevail? If you answer these questions, pretty soon a clear picture of what you really want and are good at will begin to emerge. Then you'll be able to choose where you will go with your life and how you…
SUBSCRIBE TO THE DAILY BOOST OF POSITIVITY
White Papers, Reports, and Special Offers
Free Webinar
Top Pitfalls that Keep Your Sales Team from Selling - and How to Fix Them


Thursday, June 8
2:00 pm ET


REGISTER NOW >
Daily Cartoon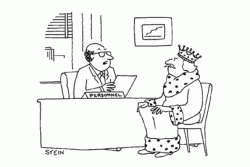 No, Harris, you can't take sick leave just because you don't feel positive today.