Selling Power Magazine – August 2015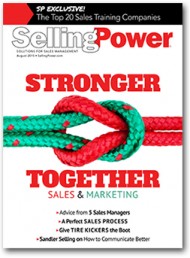 Features in this issue include:
Harness the Power of Sales and Marketing
Selling Power's 2015 List of the Top 20 Sales Training Companies
Advice from Five Sales Managers
A Perfect Sales Process
How to Leverage Social Connections for More Sales
Daily Boost of Positivity
They say procrastination is the thief of time, but this is one thief that salespeople often willingly invite into their lives. Many reps are adept at wasting time, sometimes consciously – chatting with co-workers about last night's game, looking up old college roommates on Facebook – and sometimes unconsciously, as when they stay busy with low-priority tasks to avoid actually calling on prospects. Decide today that you will bar the door against procrastination. Your time is too valuable to fritter away willingly.
SUBSCRIBE TO THE DAILY BOOST OF POSITIVITY
White Papers, Reports, and Special Offers
Webinar
Sales Content: The New King


Tuesday, September 29
10 am PT / 1 pm ET


Register Now
Upcoming Event
Sales 2.0 Leadership Conference


Monday, November 16


More Info
Daily Cartoon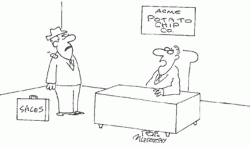 You know what your problem is, Jenkins.