Selling Power Magazine – May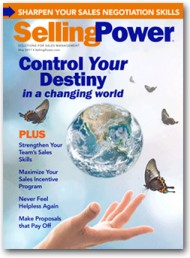 Features in this issue include:
Control Your Destiny in a Changing World
Strengthen Your Team's Sales Skills
Maximize Your Sales Incentive Program
Never Feel Helpless Again
Create Sales Proposals that Pay Off
Sharpen Your Sales Negotiation Skills
Daily Boost of Positivity
When we are completely happy, we also feel that we have more energy. That can translate into more productive days and enjoyment of day-to-day activities. Conversely, continual unhappiness and longing to be happy drain us. Although pleasure can lighten unhappy moments, happiness is the result of long-term meaning. Whenever we engage in work that we really love to do, we will always lose track of time and feel an abundance of energy.
SUBSCRIBE TO THE DAILY BOOST OF POSITIVITY
White Papers, Reports, and Special Offers
Free Webinar
Drive Sales Productivity and Increase Field Sales Success


Thursday, June 15
2:00 pm ET


REGISTER NOW >
Daily Cartoon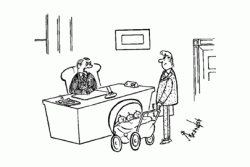 Give me three good reasons why you should get this order.