Selling Power Magazine – September 2017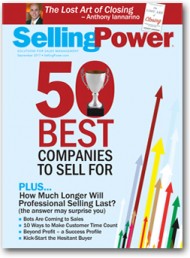 Features in this issue include:
How Much Longer Will Professional Selling Last?
50 Best Companies to Sell For
Success Profile: Beyond Profit
10 Ways to Make Every Moment You Spend with a Salesperson Count
Kick-start the Hesitant Buyer
The Power of Silence in Sales
Daily Boost of Positivity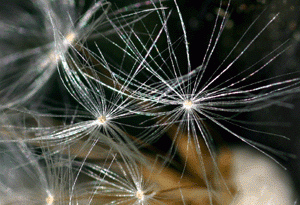 Tough times can take a toll on teamwork and highlight frustrations. Salespeople often take it personally when the numbers are down, and their egos mandate that they fight back. Many times the battle spills from the marketplace into the company's own ranks. It's not uncommon for some salespeople to speak negatively about their company's products, promotions, or pricing policies. To successfully control the infighting, sales leaders must curb their own aggressive impulses, calm frayed nerves, and channel their salespeople's fighting instincts back to healthier outlets.
SUBSCRIBE TO THE DAILY BOOST OF POSITIVITY
White Papers, Reports, and Special Offers
Upcoming Event
Sales 3.0 Conference


Monday, December 4


More Info
Daily Cartoon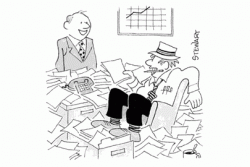 How about going with me to the sales convention next week, Branson? You can be the horrible example.