Selling Power Magazine – October 2014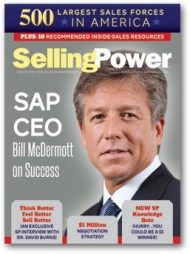 Features in this issue include:
The SP 500 - The 500 Largest Sales Forces in America
Use this $1 million sales-negotiation strategy on your next call
Think better, feel better, sell better (exclusive SP interview with Dr. David Burns)
10 Inside Sales resources to boost your sales team's productivity
Daily Boost of Positivity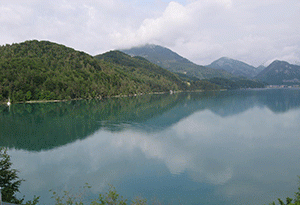 Don't let someone's negativity weigh you down. You don't need to carry around anyone else's bad feelings or depressed frame of mind. If a colleague, friend, or boss has a negative attitude, you can empathize. You don't have to argue with that person or protest that things are better than they seem. To whatever extent possible, be encouraging and supportive. Acknowledge that we all have down days, but don't allow another person's bad day to become your bad day.
SUBSCRIBE TO THE DAILY BOOST OF POSITIVITY
White Papers, Reports, and Special Offers
Webinar
The New Rules of Selling


Wednesday, October 15
1 ET / 10 am PT


Register Now
Daily Cartoon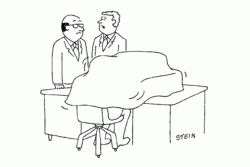 It's a very personal computer.