Selling Power Magazine – August 2015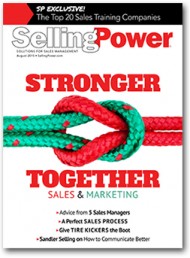 Features in this issue include:
Harness the Power of Sales and Marketing
Selling Power's 2015 List of the Top 20 Sales Training Companies
Advice from Five Sales Managers
A Perfect Sales Process
How to Leverage Social Connections for More Sales
Daily Boost of Positivity
Do you base selling decisions on what you assume about your customers or prospects – or what you know for a fact? By acting on facts that you know are correct, you increase the odds that your sale will reach the closing stage. Successful reps bet on sound, strategic planning that minimizes guesswork and evaluates possibilities. Instincts are important, but you shouldn't be using them to steer your ship to successful waters.
SUBSCRIBE TO THE DAILY BOOST OF POSITIVITY
White Papers, Reports, and Special Offers
Webinar
Top 5 Tips to Get Better Results from Your Sales Training Efforts


Wednesday, September 16
11 am PT / 2 pm ET


Register Now
Upcoming Event
Sales 2.0 Leadership Conference


Monday, November 16


More Info