Selling Power Magazine – November 2015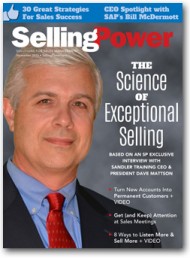 Features in this issue include:
The Science of Exceptional Selling
30 Great Strategies for Sales Success
Turn New Accounts into Permanent Customers
Get (and Keep) Attention at Sales Meetings
CEO Spotlight with SAP's Bill McDermott
8 Ways to Listen More & Sell More
Daily Boost of Positivity
Sometimes salespeople can get so caught up in the day-to-day grind that they forget to stop and look at the big picture. Today, check your long-term goals and plans (these should be written down somewhere). Are you on track to meeting these goals? Do you need to modify anything or change your daily behavior in order to attain what you most want in life? Which goals are no longer relevant or need to be updated? At the end of every week, month, and quarter, salespeople are hustling to make their numbers. In the never-ending race to the finish line, don't…
SUBSCRIBE TO THE DAILY BOOST OF POSITIVITY
White Papers, Reports, and Special Offers
Webinar
Five Key Steps for Building a Top Sales Team in 2016


Wednesday, December 16
11 am PT / 2 pm ET


Register Now
Upcoming Event
Sales 2.0 Conference


Monday, July 18


More Info
Daily Cartoon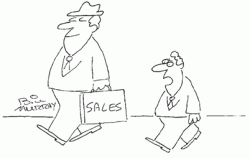 Why do I always have to engage the customer in small talk?