Selling Power Magazine – October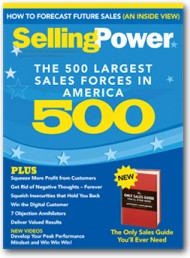 Features in this issue include:
The 2016 Selling Power 500 – America's Largest Sales Forces
How to Forecast Future Sales
Get More Profit from Customers
Get Rid of Negative Thoughts – Forever
Win the Digital Customer
New Videos: Develop Your Peak Performance Mindset
Daily Boost of Positivity
Do you take time to enjoy the little things? Stress, disappointment, and anxiety are inescapable parts of modern life. But you can change the way you react to them. Laughter is one of best tension releases. Find things to laugh about and people to laugh with. Laughter is a great antidote for taking life too seriously. Learning to interrupt a stress-producing activity will help give you the break that you need from tension. You'll return to your activity refreshed and ready to be more productive. Finally, make happy plans. Anticipation…
SUBSCRIBE TO THE DAILY BOOST OF POSITIVITY
White Papers, Reports, and Special Offers
Free Webinar
How to Excel at Being a Sales Leader


Tuesday, November 15
2:00 pm ET


REGISTER NOW >
Upcoming Event
Sales 2.0 Conference


Monday, November 14


More Info
Daily Cartoon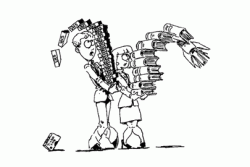 Marsha, why did we every tell our sales manager we were quick learners?