Selling Power Magazine – May 2015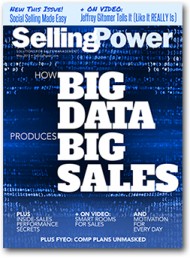 Features in this issue include:
How Big Data Produces Big Sales
Inside-Sales Performance Secrets
Motivation for Every Day
On Video: Jeffrey Gitomer Tells It (Like It REALLY Is)
New This Issue! Social Selling Made Easy
Talk Smart to Close
Daily Boost of Positivity
Every ending is the start of a new beginning. Think of the end of every year, month, week, day, and hour as an opportunity. To create the ideal version of yourself, bear in mind the principles of new beginnings. Keep an open mind and open heart. Refuse to listen to those who say you can't or shouldn't. Don't take disappointments personally (they happen to everyone). Make your decisions with the conviction that you have considered your options well and carefully. When something comes to an end, find the seed of the new thing that awaits.
SUBSCRIBE TO THE DAILY BOOST OF POSITIVITY
White Papers, Reports, and Special Offers
Webinar
How to Accurately Qualify Opportunities


Wednesday, June 3
10 am PT / 1 pm ET


Register Now
Daily Cartoon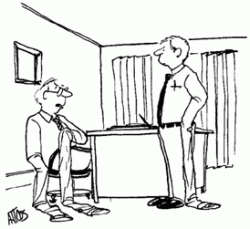 Let's roll up our sleeves and go to work.