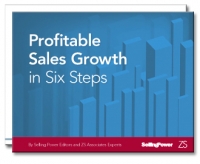 ebook:
Profitable Sales Growth in Six Steps
Sales leaders are responsible for essentially one thing: driving profitable revenue growth. Of course, finding, getting, and multiplying revenue is incredibly difficult.
For example, here's a short list of questions with which sales leaders routinely wrestle:
What and where are the most attractive growth opportunities on which we should focus?
How do we better develop and articulate our value proposition?
How do we change our sales process to adapt to new buyer behavior?
Can redesigning our compensation plan increase sales?
These issues are important to driving revenue – some might even say they are critical. But you can't focus on all of them at once. That's why great sales leaders must learn how to prioritize in order to get the results they want.

Read this ebook and benefit from insight and practical steps to improve sales force effectiveness in your organizations.