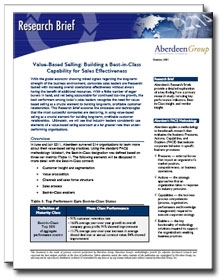 Report:
Value-Based Selling: How to Build a Best-in-Class Capability for Sales Effectiveness
Research shows that consistently leveraging value-based selling practices is the path to better performance for companies, including those in the high-tech sector. This Research Brief from ZS Associates and Aberdeen explores specific ways value-based selling is paying off. Key findings show that industry-leading companies:
Customer Insight and Segmentation – Take a systematic approach to understanding customer needs
Value Proposition – Articulate value in language the customer understands
Channel and Sales Force Structure – Collaborate with channel partners to deliver effective solutions
Sales Process – Emphasize relationship management skills and coaching against a formal sales process
Best-in-Class Enablers – Leverage performance dashboards, lead management or lead scoring, and predictive analytics
Learn more about how companies leveraging a value-based selling approach are gaining a critical advantage within their industry.