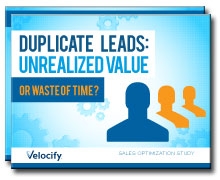 White Paper:
Duplicate Leads: Unrealized Value or Waste of Time?
Duplicate leads create inevitable problems for sales teams, including wasted time on the part of different reps unknowingly pursuing the same lead.

Download this study and get answers to the most common questions about how to keep duplicate leads from impeding the productivity and effectiveness of your sales team.