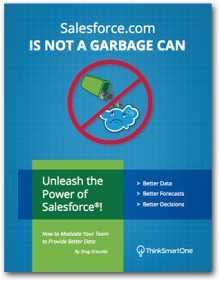 Report:
Unleash the Power of Salesforce®
Many companies struggle with Salesforce.com adoption issues. Your company's decision to invest in a CRM system was a good one. You just need to maximize that investment by motivating your people to use Salesforce correctly.
Download this report to learn how to get better data into Salesforce and enjoy the rewards:
A single source of truth for sales, marketing, and operations.
One-click sales forecasts that are accurate and up-to-date.
Universal usage and shared nomenclature by reps, customer success team members, and executives.
More accurate sales and prospect data.