Sales 3.0 Conference Report
Four Leadership Insights You Need to Create an Amazing Sales Force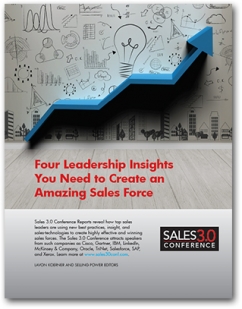 The advancement of technology is forcing the redefinition of the sales professional's role in B2B selling. As a sales leader, how can you create an amazing sales force in this environment? Sales leaders need to stop depending on salespeople to just sell better and, instead, lead them to sell differently.
Download this report and find four sales leadership insights to get you started. You'll learn:
Why you need a "demand creation" approach to selling.
How you can help reps leave their "customer comfort zones."
How to overcome common vulnerability gaps with customer relationships.
How to implement a well-defined, strategic approach to developing sales talent.