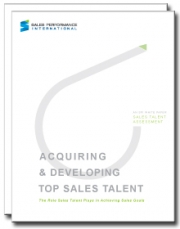 White Paper:
Acquiring & Developing Top Sales Talent
The Role Sales Talent Plays in Achieving Sales Goals
Heraclitus, the Greek Philosopher, said that "the only constant is change." Successful organizations are constantly changing, whether they initiate it or their market and customers demand it. Mergers, acquisitions, and new product offerings are just a few of the shifts a company will likely experience in its lifetime. How can companies ensure their sales organization is prepared to change with the shifting environment?
This white paper explores how best-in-class sales talent contributes to achieving your sales objectives.
Download this white paper today and learn how sales leaders can:
define what good looks like,
effectively assess existing sales reps,
align hiring practices with ideal candidate profiles,
track internal hiring trends and progress.