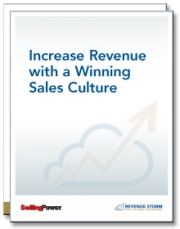 White Paper:
Increase Revenue with a Winning Sales Culture

Without a positive coaching environment, salespeople tend to feel demoralized by losses and often withhold valuable information that could otherwise help advance deals and win new business. This white paper outlines how a science-based approach to coaching creates a framework for positivity, greater collaboration, and increased revenues.
Download this white paper and you'll learn how to
Increase win rates with science-based coaching,
Neutralize tough coaching conversations,
Keep turnover low among your sales force,
Encourage reps to share information vital to closing deals,
Create an innovative and collaborative sales culture.