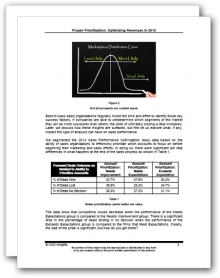 CSO Insights Report:
Sales Performance Optimization: Increasing Revenues
Among 1,200+ firms surveyed for the CSO Insights 2013 Sales Performance Optimization (SPO) study, 92% said their revenue targets for 2013 were higher than 2012. Now that new revenue targets and quotas have been set, sales management must find ways to help salespeople sell more than they did the previous year.

Download this report; learn how top sales managers are:
Solving the "low win-rate dilemma."
Winning more by prioritizing market segments.
Gaining insight by analyzing wins, losses, and "no decisions."
Leveraging big data to improve strategy and performance.