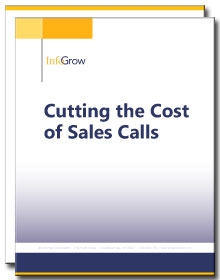 White Paper:
Cutting the Cost of Sales Calls
Managing a successful field-sales team is an expensive proposition. In fact, InfoGrow research suggests that the average cost of a B2B in-person sales call is almost $400. Not only that, but to close a sale generally requires an average of five in-person sales calls. This means that the total cost of sales calls to close an average B2B sale is about $2,000.
You'll learn:
Ways to calculate the cost of your sales calls.
The average benchmark cost of sales calls for several industries.
How to help reps increase the number of face-to-face calls made per day or per trip.