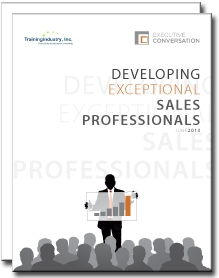 White Paper:
Developing Exceptional Sales Professionals
What are high performing sales organizations doing differently than everyone else?
This research study reveals the sales skills that high performing companies value and prioritize, and examines:
Best practices for developing and prioritizing the skills of salespeople,
Differentiating factors between high performing and average performing organizations,
Methods organizations currently use to assess the quality and impact of their sales training programs.
Download this report. Learn how you can create exceptional sales professionals who drive sales and business value.